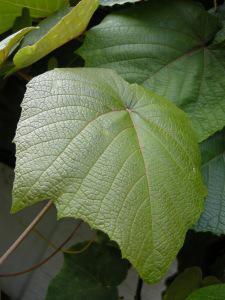 Vitis coignetiae leaf (11/06/2011, London)
Position: Flourishes in full sun to partial shade.
Soil: Moist and well drained.
Flowering period: Summer.
Eventual Height: 15m
Eventual Spread: indefinite
Hardiness: USDA Zone 5a-9b
Family: Vitaceae
Vitis coignetiae is deciduous perennial with a climbing habit. This woody-stemmed tendril climber bears large leaves that are brown-haired underneath and display bright, vivid autumn colouring. It has tiny, pale green flowers which are followed by edible, purplish bloomed black berries.
V. coignetiae, commonly known as the Crimson Glory Vine, is native to many temperate climes in Asia, including Japan. It was introduced to the west by Messrs Jardine and Matheson where it was grown in Anthony Waterer's nursery, they were also grown from seed in France in 1875 using seeds acquired by a Madame Coignet, but these plants were considered to be inferior to the Waterer stock as their autumn colouring was not as strong.
Vitis is the ancient Latin for a 'vine', with coignetiae being named for Madame Coignet.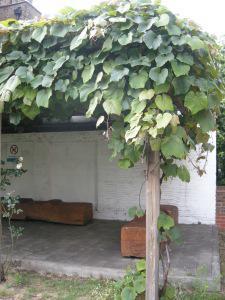 Vitis coignetiae (11/06/2011, London)
The Landscape architect may find this plant useful as a perennial climber with autumn colour.
The Royal Horticultural Society have given it their prestigious Award of Garden Merit.
Ecologically this plant will attract pollinating insects such as butterflies and honey bees although as it is not native to this continent these accociations will not be prolific.
This plant will tolerate almost any soil conditions; it will be happy in acid, neutral or alkaline pH levels, in Chalk, Clay, Sand or Loam based soils in a sheltered  location facing a southern or western aspect.
Maintenance: Requires little to no maintenance. May be trimmed in late winter or spring to control excessive growth.