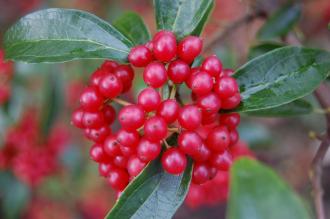 Viburnum foetidum berries (21/01/2012, Kew, London)
Position: Full sun to partial shade
Flowering period: Early summer
Soil: Well drained
Eventual Height: 4m
Eventual Spread: 4m
Hardiness: 7b – 10b
Family: Adoxaceae
Viburnum foetidum is a large, evergreen (can be semi-evergreen/ deciduous), rounded shrub. Its mid-green leaves emerge brown/ purple, are pinnate, opposite, up to 5cm long, 2.5cm wide and glossy. The bark is light brown in colour, with dispersed, small, rounded lenticels. The white flowers are arranged in the form of umbel like cymes which are up to 8cm across. The fruit of the plant is a scarlet red, glabrous drupe with a round apex and persist through the winter months. The roots of the plant are fibrous, making them easy to transplant.
Viburnum foetidum, commonly known as the Himalayan Evergreen Viburnum, is native to south China, Burma and the Himalayas. This plant is rare in its native habitat.
The etymological root of the binomial name Viburnum is from the Latin name for Viburnum Lantana, or the Wayfaring Tree. Foetidum is from the Latin meaning stinking, I am not sure what is stinking about this plant (I could not smell anything when these photographs were taken).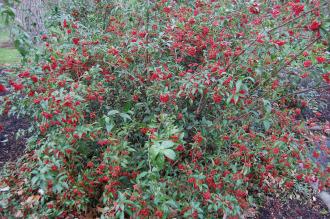 Viburnum foetidum (21/01/2012, Kew, London)
The landscape architect may find Viburnum foetidum useful as a medium sizes evergreen shrub which provides winter interest in the form of scarlet red berries.
Ecologically V. foetidum leaves are attractive to some Lepidoptera species. The flowers are attractive to bees and butterflies. The fruit is attractive to some species of birds.
V. foetidum prefers moist, fertile, well-drained soils. It tolerates most pH of soil although it prefers slightly acidic soils.
V. foetidum requires little maintenance.
Advertisement