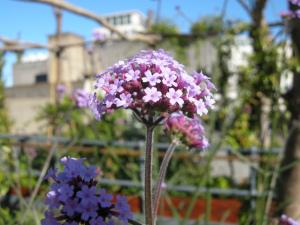 Verbena bonariensis flower (26/06/2011, London)
Position: Full sun
Soil: Well drained soil
Flowering period: Summer and autumn
Eventual Height: 1.5m
Eventual Spread: 50cm
Hardiness: USDA Zone 7a-10b
Family: Verbenaceae
Verbena bonariensis is a deciduous short lived perennial with a clump forming habit. Above the basal clump of dark green, toothed, oblong leaves are upright, branched and wiry stems bearing tufts of tiny, purplish-blue flowers. These are followed by seed heads which produce viable seeds which germinate readily.
V. bonariensis, commonly known as Vervain, is native to South America including Colombia, Brazil, Argentina and Chile. It has been naturalised in many of the warmer climates around the world and is considered an invasive weed in parts of North America.
Verbena is derived from the French common name of the genus Vervain. Bonariensis meaning of or from Buenos Aires, Argentina.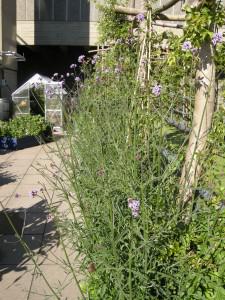 Verbena bonariensis (26/06/2011, London)
This plant may be useful to the landscape architect as part of an informal prairie scheme. This plant is drought tolerant once established, self seeded plants being more drought tolerant than those transplanted.
The Royal Horticultural Society have given it their prestigious Award of Garden Merit.
This plant will tolerate almost any soil conditions; it will be happy in neutral, acid or alkaline pH levels, in loam, clay, chalk or sand based soils facing an exposed southern aspect.
Ecologically this plant will attract pollinating insects such as butterflies and honey bees and although it is not native to this continent it has been known to attract large numbers of these pollinating insects.
Maintenance: Requires little to no maintenance. May be cut back to the ground level after flowering. To create tougher plants that will not be damaged by winter frosts the stems should be left over the winter months and removed once the spring shoots appear. Unwanted self seeded seedlings can be removed as they appear.