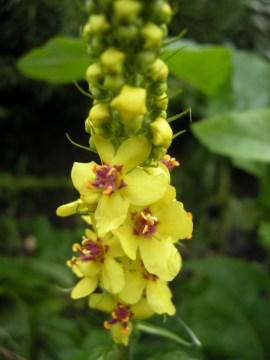 Verbascum nigrum flower (29/10/2011, London)
Position: Full Sun
Flowering period: Late summer to early autumn
Soil: Well drained, prefers alkaline soils 
Eventual Height: 90 cm
Eventual Spread: 60 cm
Hardiness: USDA Zones 3a-8b
Family: Scrophulariaceae 
Verbascum nigrum is a deciduous or semi-evergreen biennial or short lived herbaceous perennial, with a upright growing, clump forming habit. The leaves of the plant are ovate to oblong in shape, mid-dark green on the upper surface and gray and woolly beneath. The leaves appear in the form of a dense rosettes at ground level and are spirally arranged. The flowering stems of the plant are produced from summer to mid autumn, they are erect, usually unbranched and ridged. They bear clusters of saucer shaped, dark yellow flowers with purple centers. They have 5 symmetrical petals. The fruit is a capsule containing numerous minute seeds. 
Verbascum nigrum, commonly known as Dark Mullein, Black Rooted Mullein or Tall Mullein, is native to Europe and Asia including the UK (particularly in the south east of the country). It is found growing in the wild on road verges and hedge banks, and other grassy places that are subject to occasional disturbance, including arable field margins and on walls.
The etymological root of the binomial name Verbascum is derived from a corrupted form of  Barbascum, the ancient Latin name for this genus of plant. Nigrum is derived from the Latin for black, which refers to the color of the roots.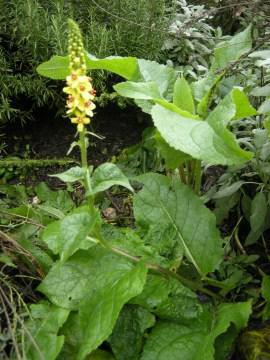 Verbascum nigrum (29/10/2011, London)
The landscape architect find Verbascum nigrum useful as part of a wild life planting scheme.It is drought tolerant once established and able to cope with poor environmental conditions.
Ecologically, V. nigrum is good source of pollen and is attractive to insects, particularly bees. Birds find the seeds of this plant very attractive. The dead flowering stems provide hibernation sites for over wintering invertebrates.
V. nigrum  prefers chalky, loamy, well-drained soil and will tolerate poor soils. It will tolerate most pH of soil.
Maintenance: This plant requires little maintenance.