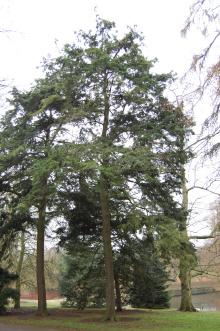 Tsuga canadensis (09/02/2013, Kew Gardens, London)
Position: Partial shade
Flowering period: Late spring
Soil: Moist, well drained
Eventual Height: 30m
Eventual Spread: 10m
Hardiness: 3a – 8b
Family: Pinaceae
Tsuga canadensis is a long lived, slow growing coniferous evergreen tree with a broadly conical habit. Its dark green leaves needle shaped with serrulate margins, flattened, up to 25mm long. Its branches are horizontal and spreading. Its trunk may achieve a diameter of up to 1.5m. Its brownish bark is scaly and becomes deeply fissured with age. Its yellow monoecious flowers and appear at the branch tips. Its fruit are in the form of cones, are up to 25mm long and 15mm broad.
Tsuga canadensis, commonly known as Eastern Hemlock, Pruche du Canada or Canadian Hemlock, is native to eastern North America. It was introduced into the UK in 1736.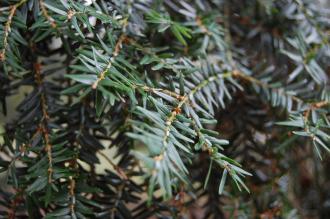 Tsuga canadensis Leaf (09/02/2013, Kew Gardens, London)
The etymological root of the binomial name Tsuga is from the Japanese vernacular for the Hemlock Cedar. Canadensis is derived from the Latin meaning 'from Canada'.
The landscape architect may find Tsuga canadensis useful as an attractive evergreen tree, particularly for shady locations. It prefers a sheltered location and dislikes salt conditions.
Ecologically, Tsuga canadensis seed provide food for mammals and birds.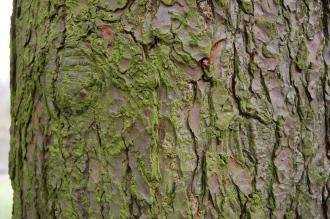 Tsuga canadensis Bark (09/02/2013, Kew Gardens, London)
Tsuga canadensis prefers moist, fertile, well-drained soils. It prefers a neutral to acidic pH of soil. It will not tolerate dry or waterlogged soils.
Tsuga canadensis requires little maintenance. This tree will withstand hard pruning.