Position: Partial to full shade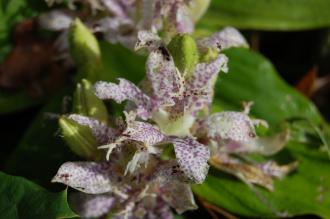 Tricyrtis hirta Flower (20/10/2012, Kew Gardens, London)
Flowering period: Late summer to autumn
Soil: Moist, well drained
Eventual Height: 80cm
Eventual Spread: 60cm
Hardiness: 5a – 9b
Family: Liliaceae
Tricyrtis hirta is a deciduous herbaceous perennial with a clump forming habit. Its mid green leaves are oval to oblong with entire margins, has parallel veins and are up to 15cm long. Its stems are arching and unbranched. Its hermaphrodite white with purple spotted flowers are up to 25mm across, and appear in the upper leaf axils.
Tricyrtis hirta, commonly known as the Toad Lily or Hairy Toad Lily, is native to east Asia, Japan and the Philippines. In its native habitat it grows in moist woodlands, shaded cliff s and stream banks. All parts of this plant are poisonous if ingested.
The name Trictyris is derived from the Greek tries meaning 'three' and kyrtos meaning 'convex', referring  to the three out sepals having swollen bases. Hirta is from the Latin meaning 'hairy', in reference to the fact this plant is covered in fine hairs.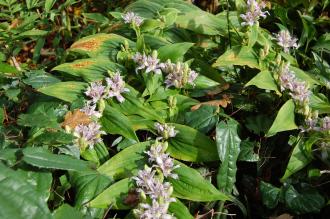 Tricyrtis hirta (20/10/2012, Kew Gardens, London)
The landscape architect may find Tricyrtis hirta useful as part of a woodland planting scheme.
Ecologically, Tricyrtis hirta is pollinated by insects.

Tricyrtis hirta prefers moist, humus rich, well-drained soils. It tolerates most pH of soil. It prefers a moist soil.
Tricyrtis hirta requires little maintenance. Large clumps may be divided in spring.