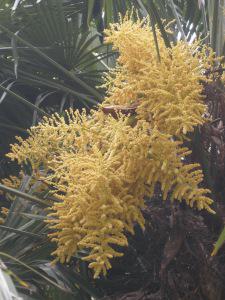 Trachycarpus fortunei flower (08/05/2011, London)
Position: Flourishes in full sun to partial shade.
Soil: Moist but well drained.
Flowering period: Early summer.
Eventual Height: 20m
Eventual Spread: 2.5m
Hardiness: USDA Zone 7b-11a
Family: Arecaceae
Trachycarpus fortunei is an evergreen palm with an unbranched single stemed habit. Its trunk is covered with persistent leaf bases clasping the stem as layers of coarse fibrous material. It has a head of fan shaped, dark green leaves that are up to 75cm long composed of pointed, lobe segments. Small yellow flowers are borne in large pendant panicles that emerge from the leaf base. T.fortunei is a dioecious, having separate male and female plants. Impressive inflorescences are produced in late spring followed by small black spherical fruits on the female plant only.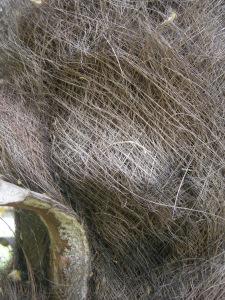 Trachycarpus fortunei stem (08/05/2011, London)
T. fortunei is commonly known as Chusan Palm after an island called Zhoushan, which was previously known as Chusan where Robert Fortune first saw them cultivated. It has been so cultivated in China and Japan that its original range is impossible to distinguish. It was introduced to the west in 1839 by Carl Friedrich Philipp von Martius who wrongly described it as a member of the Chamaerops genus due to confusion with its Asian common name.
Trachycarpus is derived from the Greek trachus meaning rough, and karpus meaning 'a fruit', due to the fruit of some species being hairy. Fortunei is from the plant hunter Robert Fortune name.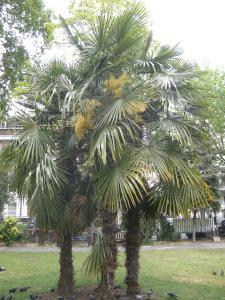 Trachycarpus fortunei (08/05/2011, London)
The landscape architect may find this plant is useful as an extremely hardy palm; it has been successfully grown in much of Scotland and has been noted to survive as far north as Alaska. It is also tolerant of mild, wet winters and salty, coastal weather. A popular cultivar of this species is T. fortunei 'Nanus'; it has a short almost non-existent trunk and smaller stiffer leaf blades.
This plant is happy at most pH levels and the soil may be chalk, loam or sand. It may be placed in a sheltered or exposed location but will not thrive in a north facing position.
Ecologically this plant will attract pollinating insects such as bees that will feed on its nectar.
The Royal Horticultural Society have given it their prestigious Award of Garden Merit.
Maintenance: Requires little care, old dying leaves may be removed from the trunk.