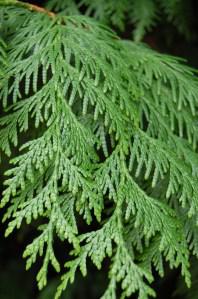 Thuja plicata leaf (17/09/2011, London)
Position: Full Sun
Flowering period: Spring
Soil: Well drained
Eventual Height: 60m
Eventual Spread: 8m
Hardiness: USDA Zones 5b-8b
Family: Cupressaceae
Thuja plicata is an evergreen coniferous tree. It is a large tree, long lived tree, with a columnar, upright growth habit. The tree has a tapering trunk and it is buttressed at the base, with a narrow conical crown of short spreading branches at the ends. The bark of the tree is a reddish brown colour and fibrous. The foliage forms flat sprays and is resinous and aromatic smelling of pineapple when crushed. The leaves are 1.5-3 mm long, scale like and shortly pointed and are borne on growing lead shoots. The flowers of the plant are slender, broad cones with thin overlapping leathery  scales. They are green to yellow green and become brown autumn. The cones are slender and upright arising from a short stalk. The pollen cones are red to purple at first shedding of yellow pollen in early spring. The seeds are 4-5 mm  long and 1 mm broad with a narrow wing down each side. 
T. plicata, commonly known as Western red cedar, is native to the northwestern United States and southwestern Canada. It is among one of the most widespread trees in the Pacific Northwest. It can grow up to elevations of 2290 metres above sea level. It is usually associated with lush mountainous forests and mountainsides but can also grow in a range of forested swamps and stream-banks. This tree has an extensive history of use by the indigenous people of the Pacific Northwest Coast. The bark is easily harvested from the tree in the form of long strips. It can be sued to make rope, clothing and other soft goods. The oldest verified specimen of this tree is over 1,460 years old. This tree was introduced into Britain in 1853 and is now naturalised here.
Thuja was named by the Swedish botanist Linnaeus in 1753 and is derived from the Greek word thuo, 'to sacrifice' as the wood was often burned with animal sacrifices by the ancients to add a pleasing aroma to the fire. Plicata is derived from the Latin plicatus meaning 'folded' in reference to the pattern of its small leaves.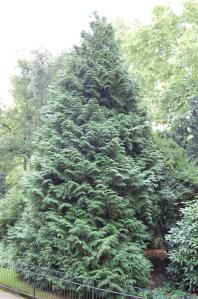 Thuja plicata (17/09/2011, London)
The landscape architect may find this plant useful as a specimen tree in a park setting. It also makes an effective evergreen hedging plant. 
Ecologically this plant is attractive to scale insects and conifer aphids. 
This plant prefers soil which is well drained but moist. It tolerates most pH of soil, including very alkaline. The plant is also able to withstand maritime exposure.
The Royal Horticultural Society has given their prestigious Award of Garden Merit to a number of varieties of this tree.  
Maintenance: This plant requires little maintenance. If planted as a hedge it should be pruned once a year in early August.