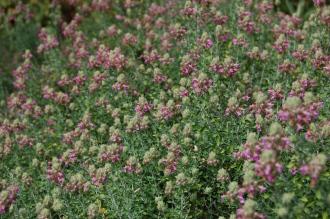 Teucrium marum (27/07/2013, Kew Gardens, London)
Position: Full sun
Flowering period: Summer
Soil: Moist, well drained
Eventual Height: 30cm
Eventual Spread: 30cm
Hardiness: 9a, 9b, 10a, 10b
Family: Lamiaceae
Teucrium marum is an evergreen sub-shrub with a mound forming habit. Its downy grey/ green leaves ovate with entire margins, up to 3cm long, 1cm broad,  and have a musky fragrance. Its pink flowers appear as a one sided spike.
Teucrium marum, commonly known as Cat Thyme, is native to the west Mediterranean. In its native habitat it grows on dry hills and scrubby landscapes. Cats are attracted to this plant.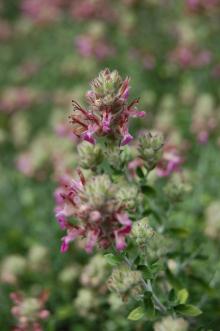 Teucrium marum Flower (27/07/2013, Kew Gardens, London)
The etymological root of the binomial name of Teucrium is likely to be from the ancient Greek, being named for Teucer, the legendary first king of Troy who pioneered use of these plants as medicines. Marum may be derived from the Latin amarum meaning 'with bitterness', reader feedback on this would be welcome.
The landscape architect may find Teucrium marum useful in hot, dry places as a ground over. It is also suitable for rock gardens. Once established this plant is drought tolerant.
Ecologically, Teucrium marum flowers are attractive to bees and other pollinating insects.
Teucrium marum prefers moist, well-drained soils. It tolerates most pH of soil.
Teucrium marum requires little maintenance. This plant may be trimmed after flowering to keep a tidy compact appearance.