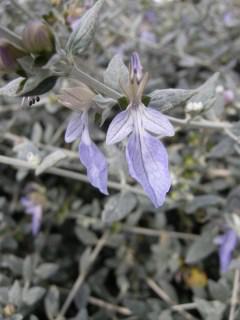 Teucrium fruticans flower (29/10/2011, London)
Position: Full sun
Flowering period: Summer to early autumn
Soil: Well drained
Eventual Height: 1.5m
Eventual Spread: 2m
Hardiness: USDA Zones 8a-10b
Family: Lamiaceae
Teucrium fruticans is an evergreen shrub with a grayish blue appearance. It has small 2cm long pointed leaves which are grey/ green above and silver white beneath, these are covered on fine hairs and are aromatic. These appear on a loose framework of narrow stems which are also silver white. The blue/ violet flowers are 15mm long and have the appearance of those of the Salvia family. These appear on the branch tips
Teucrium fruticans, commonly known as Tree Germander and Shrubby Germander, is native to Southern Europe and North Africa. It has been cultivated as a garden plant for at least 300 years. It was introduced into Britain in the 18c but it's hardiness has limited it to warmer parts of the country.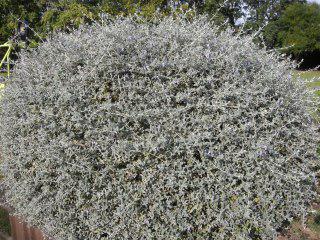 Teucrium fruticans (29/10/2011, London)
The etymological root of the binomial name of Teucrium is likely to be from the ancient Greek, being named for Teucer, the legendary first king of Troy who pioneered use of these plants as medicinals. Fruticans is derived from the Latin frutex 'shrub' or 'bush'.
The landscape architect may find Teucrium fruticans useful an evergreen drought tolerant shrub particularly in poor well drained soils. It may be clipped into any form including a hedge. This plant is extremely drought tolerant once established and is suitable for xeriscaping. It is tolerant of the maritime environment.
Ecologically, this plant is attractive to bees.
The variety Teucrium fruticans 'Azureum' has won the prestigious Royal Horticultural Societies annual Award of Garden Merit in 1993.
Teucrium fruticans will tolerate most well drained soils, including poor soils. It will not tolerate wet soil conditions. It prefers a soil pH of neutral to alkali.
Maintenance: This plant requires little maintenance. This plant may be clipped on a regular basis to promote new attractive growth. It may be hard pruned to ground level.