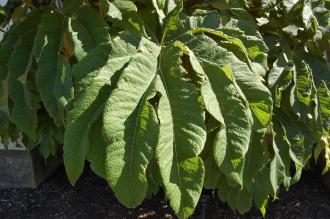 Tetrapanax papyrifer 'Rex' Leaf (08/09/2012, Kew Gardens, London)
Position: Full sun to partial shade
Flowering period: Late summer
Soil: Moist, well drained
Eventual Height: 4m
Eventual Spread: 3m
Hardiness: 8a – 11
Family: Araliaceae
Sub family: Aralioideae
Tetrapanax papyrifer 'Rex' is a rounded evergreen shrub. Its dark green leaves are deeply palmately lobed, up to 1m across, with up to 11 lobes. Its leaves appear as a rosette at the top of unbranched stems. Its white flowers appear in the form of large panicles of hemispherical umbles at the ends of the stems. Its black fruit is a small drupe. This plant may produce suckers.
The species, Tetrapanax papyrifer, commonly known as Tong Cao or Rice Paper Plant, is native to Taiwan. Tetrapanax papyrifer is the sole species in the Tetrapanax genus.
The etymological root of the binomial name Tetrapanax is derived from the Greek tetra meaning 'four' and panax meaning 'healer of all'. Papyrifer is from the Latin meaning 'paper bearing', in reference to this plants historic use.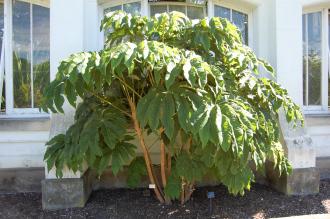 Tetrapanax papyrifer 'Rex' (08/09/2012, Kew Gardens, London)
The landscape architect may find Tetrapanax papyrifer 'Rex' useful as a large architectural plant with a tropical appearance. It prefers a sheltered location.
Ecologically, Tetrapanax papyrifer 'Rex' is attractive to pollinating insects.

The Royal Horticultural Society has given Tetrapanax papyrifer their prestigious Award of Garden Merit in 1993.
Tetrapanax papyrifer 'Rex' prefers moist, humus rich, well-drained soils. It tolerates most pH of soil.
Tetrapanax papyrifer 'Rex' requires little maintenance.