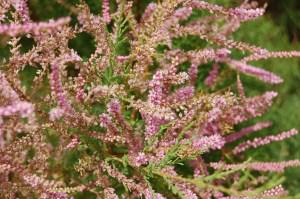 Tamarix tetrandra flower (17/07/2011, Margate)
Position: Full sun
Soil: Well drained soil
Flowering period: Summer
Eventual Height: 4m
Eventual Spread: 4m
Hardiness: USDA Zone 5a-8b
Family: Tamaricaceae
Tamarix tetrandra is a deciduous shrub with an arching, bushy habit. Upon its almost black branches, shoots are covered in minute green, scale-like leaves and in summer the plant is engulfed in large plumes of light pink hermaphroditic flowers.
T. tetrandra, also known as the Four Stamen Tamarisk, is native to eastern Europe including the Balkans and the Aegean peninsula.
Tamarix was the ancient Latin name of a plant in the genus, possibly the source of 'Manna from heaven'. Tetrandra is derived from the Latin, meaning 'four anthers'.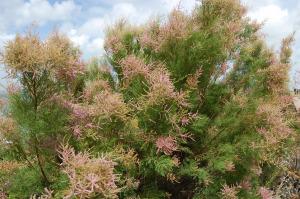 Tamarix tetrandra (17/07/2011, Margate)
The landscape architect may find this plant useful as a flowering, informal, shelter hedge in windy coastal and maritime areas.  This plant is also drought tolerant once established.
The Royal Horticultural Society gave this plant their prestigious Award of Garden Merit in 1993.
This plant will tolerate many soil conditions; it will be happy at neutral or acid pH levels, in loam, sand or clay based soils facing any sheltered or exposed aspect. It dislikes shallow chalky soil.
Ecologically this plant will attract many species of pollinating insects such as honey bees and butter flies, its sap will also attract ants.
Maintenance: This plant requires little to no maintenance. Dead or damaged material may be removed in late winter or early spring.