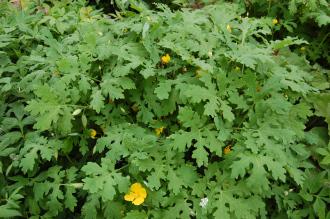 Stylophorum diphyllum (18/05/2013, Kew Gardens, London)
Position: Dappled to full shade
Flowering period: Late spring
Soil: Moist, well drained
Eventual Height: 45cm
Eventual Spread: 1m
Hardiness: 4b, 5a, 5b, 6a, 6b, 7a, 7b, 8a, 8b, 9a
Family: Papaveraceae
Stylophorum diphyllum is a deciduous herbaceous perennial. Its grey/ green leaves are pinnately cut and deeply lobed, up to 16cm long and 15cm broad. Its yellow terminal flowers have four petals and are up to 8cm across. Its fruit is a blue/ green pod which hangs below the leaves and is up to 25mm long. Its roots are fleshy rhizomes.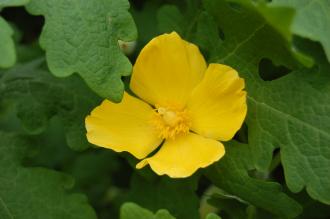 Stylophorum diphyllum Flower (18/05/2013, Kew Gardens, London)
Stylophorum diphyllum, commonly known as the Celandine Poppy, Yellow Poppy, Wood Poppy or Poppywort, is native to east North America. In its native habitat it grows in moist woodland.
The etymological root of the binomial name Stylophorum is derived from the Greek stylo meaning 'style' and phorum meaning 'bearing'. Diphyllum is derived from the Greek meaning 'two leaved'.
The landscape architect may find Stylophorum diphyllum useful as a woodland understory plant. The sap of this perennial is yellow/ orange and may stain.
Ecologically, Stylophorum diphyllum is attractive to pollinating insects.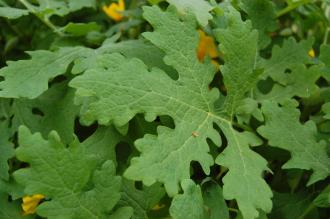 Stylophorum diphyllum Leaf (18/05/2013, Kew Gardens, London)
Stylophorum diphyllum prefers moist, humus rich, well-drained soils. It tolerates most pH of soil. It dislikes dry soils.
Stylophorum diphyllum requires little maintenance. Large clumps may be divided in early spring.