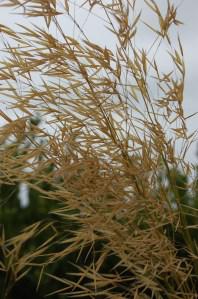 Stipa gigantea seed (17/07/2011, Margate)
Position: Full sun
Soil: Moist, well drained soil
Flowering period: Summer
Eventual Height: 2.5m
Eventual Spread: 1m
Hardiness: USDA Zone 5a-10b
Family: Poaceae
Stipa gigantea is an evergreen perennial grass with a tuft forming habit.  Its foliage is narrow, linear and arching. In summer it carries elegant, open panicles composed of silvery, hermaphroditic spikelets, with long awns and dangling golden anthers and which persist into the summer.
S. gigantea, commonly known as Golden Oats or Giant Feather Grass, is native to western Europe including Spain, Portugal and Morocco and has been naturalised in the UK.
Stipa is derived from the Greek, meaning 'fiber', with gigantea being derived from the Latin meaning 'very large'.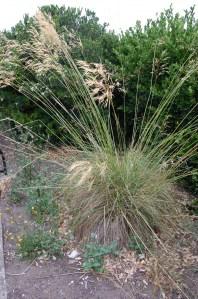 Stipa gigantea (17/07/2011, Margate)
This plant may be useful to the landscape architect for its architectural habit and may be used as a part of a low maintenance prairie style scheme. The plant is also drought tolerant once established.
The Royal Horticultural Society gave this plant their prestigious Award of Garden Merit in 1993.
This plant will tolerate almost any soil conditions; it will be happy at neutral, alkaline or acid pH levels, in loam, sand, chalk or clay based soils facing any sheltered or exposed aspect.
Ecologically this plant will attract many species of small bird that will use its foliage both as material to build nests and as cover from predators.
Maintenance: This plant requires little to no maintenance. Dead or damaged foliage and old flowered stems may be removed in spring. This plant may be propagated by dividing clumps from mid-spring to early summer.