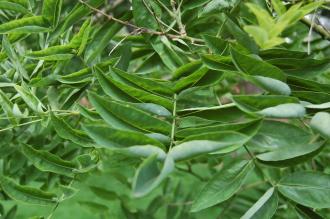 Sophora japonica Leaf (28/07/2012, Kew Gardens, London)
Position: Full sun
Flowering period: Late summer
Soil: Moist, well drained
Eventual Height: 25m
Eventual Spread: 20m
Hardiness: 5a – 9a
Family: Fabaceae
Subfamily: Faboideae
Sophora japonica is a fast growing, deciduous, rounded medium sized tree with an open habit. Its mid green leaves are alternate, odd pinnate and up to 25cm long. They are composed of up to 21 leaflets, each being ovate with entire margins and up to, 5cm long. Its leaves turn yellow before falling in autumn. Its bark is light grey/ brown with vertical ridges. Its white/ yellow pea like flowers appear in pendulous axillary racemes. Its fruit are long seed pods which are up to 20cm long, initially green, maturing to gray.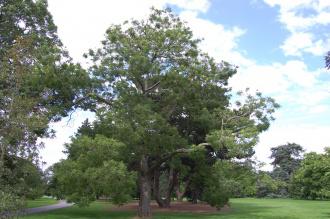 Sophora japonica (28/07/2012, Kew Gardens, London)
Sophora japonica, commonly known as the Pagoda Tree, Japanese Pagoda Tree or Scholar Tree, is native to eastern China and Korea. Despite its binomial name, it was introduced in to Japan. Sophora japonica is synonymous with Styphnolobium japonicum. This tree has a long use in traditional Chinese medicine.
The etymological root of the binomial name Sophora is derived from the Arabic name, sophera, for a pea-flowered tree. Japonica is derived from the Latin meaning 'of Japan', although this tree was introduced into Japan.
The landscape architect may find  Sophora japonica useful as a medium sized tree with a light canopy in a street or parkland setting. This tree is tolerant of urban pollution. Once established it is drought tolerant.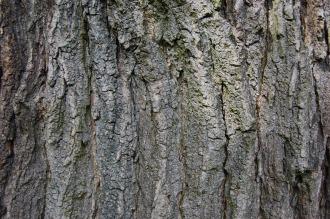 Sophora japonica Bark (28/07/2012, Kew Gardens, London)
Ecologically, S. japonica is attractive to pollinating insects.
The Royal Horticultural Society has given S. japonica their prestigious Award of Garden Merit in 1993.
S. japonica prefers moist, fertile, well-drained soils. It tolerates most pH of soil. It is tolerant of poor soils.
Sophora japonica requires little maintenance.