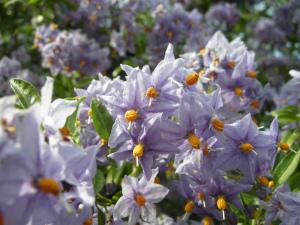 Solanum crispum flower (01/05/2011, London)
Position: Flourishes in full sun.
Soil: Moist but well drained.
Flowering period: Late spring to early summer.
Eventual Height: 6m
Eventual Spread: indefinite
Hardiness: USDA Zone 8a-11a
Family: Solanaceae
Solanum crispum is an semi-evergreen climber with a vigouras scrambling habit. It has dark green leaves and bears terminal corymbs composed of lilac to purple-blue flowers. The fruit that follows these is a poisonous, yellowish-white, tomato like fruit
S. crispum is a species of nightshade native to Chile and Peru known as the Chilean Potato Vine or Chilean Nightshade.
Solanum was a name given by Pliny, the Roman naturalist, with crispum meaning curled or wrinkled from the Latin.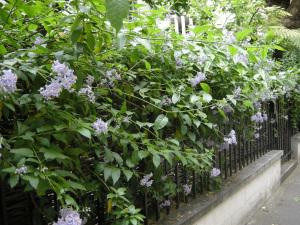 Solanum crispum (01/05/2011, London)
The landscape architect may find this plant is useful in covering a structure (or wall when properly supported) and it can be used as a screening plant due to its evergreen foliage. Caution should be exercised when locating this plant due to the poisonous nature of its fruit and due to its vigorous nature.
A popular cultivar is S. crispum 'Glasnevin'; it has much darker flowers that are a beautiful violet blue.
This plant prefers an alkaline soil composed of sand, clay or chalk. It will also prefer an east or south facing sheltered aspect.
Ecologically this plant will attract pollinating insects such as bees that will feed on its nectar.
The Royal Horticultural Society have given the cultivar S. crispum 'Glasnevin' their prestigious Award of Garden Merit.
Maintenance: Dead or damaged material should be removed at the end of winter. It will require heavy pruning so as to keep a vine like appearance or it will become very bushy.