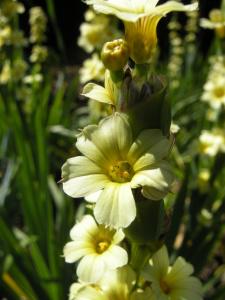 Sisyrinchium striatum flower (21/05/2011, London)
Position: Flourishes in full sun to partial shade.
Soil: Moist and well drained. Drought tolerant once established.
Flowering period: Early and mid summer.
Eventual Height: 90cm
Eventual Spread: 25cm
Hardiness: USDA Zone 7a-10b
Family: Iridaceae
Sisyrinchium striatum is an evergreen perennial with a clump forming habit. Its foliage is linear to lance shaped and iris-like but double ranked, stiff and greyish green. In early and mid summer unbranched stems bear stalkless clusters of open, cup shaped, pale yellow flowers with tepal backs striped purple-brown.
S. striatum is commonly known as Pale Yellow Eyed Grass or Sisyrinchium and is native to Chile and Argentina.
Sisyrinchium was derived from the Greek sys- meaning 'pig' and rynchos meaning 'snout', referring to the roots being consumed by swine. striatum however was derived from the Latin striatus meaning 'channelled' or 'grooved'.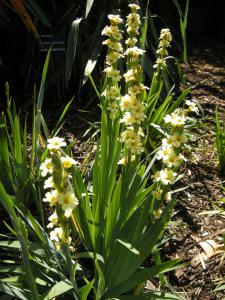 Sisyrinchium striatum (21/05/2011, London)
The Landscape architect may find this plant useful as a low ground cover which is tolerant of dry locations (once established).
This plant will tolerate many different soil conditions; it will be happy in neutral or alkaline pH levels, in loam, sand or chalk in a sheltered or exposed location but will prefer a south facing aspect.
Ecologically this plant will attract many pollinating insects such as honey bees.
The Royal Horticultural Society have given the cultivar S. striatum 'Aunt May', with its foliage being a beautiful sword-grey and variegated with stripes of creamy white banding at the edges, their prestigious Award of Garden Merit.
Maintenance: Little maintenance required. Large clumps may be divided in spring. Discoloured foliage and faded flowers may be removed at any time.