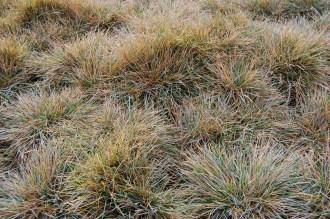 Sesleria caerulea (20/10/2012, Kew Gardens, London)
Position: Full sun to partial shade
Flowering period: Spring
Soil: Moist, well drained
Eventual Height: 25cm
Eventual Spread: 30cm
Hardiness: 4a – 9b
Family: Poaceae
Sesleria caerulea is an evergreen low growing clump forming grass. Its leaves are strap like with blunt tips, blue/ green above and dark green beneath, and up to 25cm long. Its purple flowers appear at the ends of erect stems and mature to a silver green. Its roots are rhizomes.
Sesleria caerulea, commonly known as Blue Moor Grass, is native to much of Europe, including the UK. In its native habitat this grass grows on limestone cliffs, scree slopes
The etymological root of the binomial name Sesleria is named after Leonardo Sesler ( – 1785), an Italian botanist. Caerulea is from the Latin meaning 'blue'.

The landscape architect may find Sesleria caerulea useful as an effective ground cover when planted en mass. Once established this grass will tolerate periods of drought.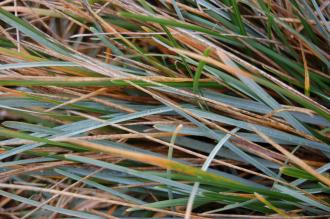 Sesleria caerulea Detail (20/10/2012, Kew Gardens, London)
Ecologically, Sesleria caerulea seeds are attractive to some species of bird.

Sesleria caerulea prefers moist, fertile, well-drained soils. It prefers an alkali to neutral pH of soil.
Sesleria caerulea requires little maintenance.