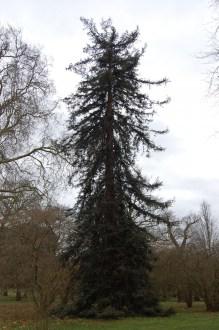 Sequoia sempervirens (18/02/2012, Kew, London)
Position: Full sun
Flowering period: Late winter
Soil: Well drained, moist
Eventual Height: 60m (115m in the wild)
Eventual Spread: 10m
Hardiness: 8a – 9b
Family: Cupressaceae
Subfamily: Sequoioideae
Sequoia sempervirens is a large, long lived, columnar, evergreen tree with a conical crown.  It produces dark green juvenile and mature leaves. Its juvinille leaves are slender, quite flat, linear, up to 25mm long with pointed tips. Its mature leaves are scale like and up to 10mm long. The branches of the tree form a narrow conical crown and are horizontal or down-curved. The trunk of this tree amy achieve a diameter of up to 4m. The bark of the tree is thick (up to 30cm), soft, fissured with red brown bark (bright red when exposed). The female seed cones are ovoid, up to 30mm long with 15-25 spirally arranged scales and mature 9 months after pollination. Each scale bears up to 7 seeds. The male pollen bearing cones are oval and up to 6mm long.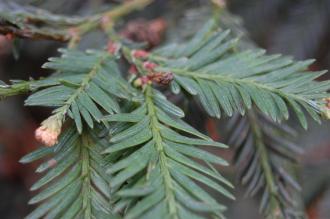 Sequoia sempervirens leaf (18/02/2012, Kew, London)
Sequoia sempervirens, commonly known as Coast Redwood or California Redwood, is native to the western coastal region of North America. It is the sole species of the Sequoia genus. It is a long lived tree and this species includes the tallest living organism on earth, measured at 115.6m tall. Discovered in 1769, Sequoia sempervirens was not described botanically for  more than 50 years. It was introduced to Britain in 1843. S. sempervirens has naturalised in New Zealand.
The etymological root of the binomial name Sequoia is named after George Gist (Sequoyah) (1770-1843), the mixed race Native American who invented the Cherokee alphabet. Sempervirens is derived from the Latin semper 'always' and virere 'green'.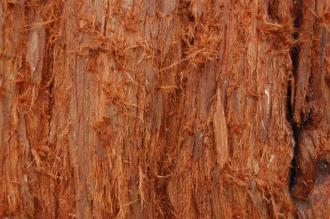 Sequoia sempervirens trunk (18/02/2012, Kew, London)
The landscape architect may find Sequoia sempervirens useful as a large columnar evergreen specimen tree. If grown in shady conditions it will shed its lower branches. It may also be used for forest planting schemes.
Ecologically, S. sempervirens forests in their native habitat provide habitat for a variety of mammals, birds, reptiles, and amphibians.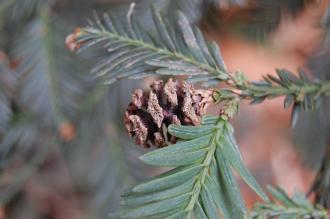 Sequoia sempervirens cone (18/02/2012, Kew, London)
The Royal Horticultural Society has given S. sempervirens their prestigious Award of Garden Merit in 1993.
S. sempervirens prefers moist, fertile, well drained soils. It will tolerate most pH of soil. It grows well in wet soils. 
S. sempervirens requires little maintenance.
Advertisement