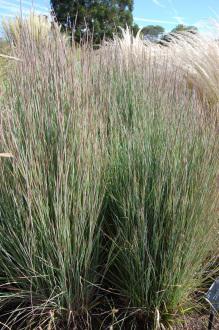 Schizachyrium scoparium (08/09/2012, Kew Gardens, London)
Position: Full sun
Flowering period: Summer
Soil: Moist, well drained
Eventual Height: 90cm
Eventual Spread: 40cm
Hardiness: 3a – 9b
Family: Poaceae
Schizachyrium scoparium is an upright, clump forming, evergreen, perennial grass. Its mid green leaves are blue green in spring and develop a red color as autumn approaches, this color is usually retained throughout the winter months.
Schizachyrium scoparium, commonly known as Little Bluestem, Bunchgrass or Beard Grass, is native to North America. In its native habitat it grows as a component of prairie grassland. Schizachyrium scoparium is synonymous with Andropogon scoparius.
The etymological root of the binomial name Schizachyrium is derived from the Greek schiz meaning 'to split' and achryon meaning 'husk'. Scoparium is derived from the Latin Scopa meaning 'Butchers Broom (shrub)', in reference to the plants structure.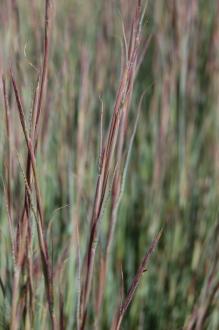 Schizachyrium scoparium Seed Head (08/09/2012, Kew Gardens, London)
The landscape architect may find Schizachyrium scoparium useful as part of a prairie type planting scheme. Once established this plant is drought tolerant.
Ecologically, Schizachyrium scoparium seeds are attractive to some species of bird.
Schizachyrium scoparium prefers moist, fertile, well-drained soils. It tolerates most pH of soil. It thrives on poor soils.
Schizachyrium scoparium requires little maintenance.