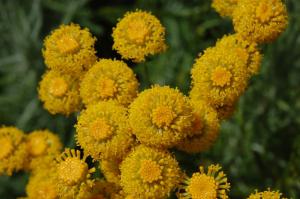 Santolina chamaecyparissus flower (18/06/2011, London)
Position: Flourishes in full sun.
Soil: Well drained.
Flowering period: Summer.
Eventual Height: 75cm
Eventual Spread: 1m
Hardiness: USDA Zone 6a-9b
Family: Asteraceae
Santolina chamaecyparissus is an evergreen shrub with a dense, rounded habit. Its shoots are covered in woolly, white growth and bear narrowly oblong, finely toothed leaves which also appear white. Bright yellow, monoecious flower heads are borne in mid to late summer.
S. chamaecyparissus, commonly known as Cotton Lavender, is native to the Mediterranean region but has been widely naturalised in the UK. It has been used as flavouring in broths and sauces but due to its medicinally active compounds this is not a widespread activity. Its medicinal properties are not widely documented and as such it is not widely used for this purpose either.
Santolina is derived from the ancient Greek and refers to a Wormwood found in the country of Santones in Gaul. Chamaecyparissus is derived from the Latin meaning ground-cypress.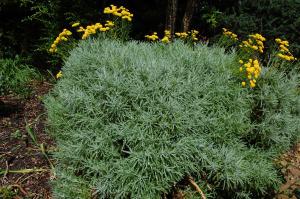 Santolina chamaecyparissus (18/06/2011, London)
The landscape architect may find this plant useful as an aromatic low informal hedge. It is tolerant of the maritime climate and is drought tolerant once established.
This plant will tolerate almost any soil conditions; it will be happy in neutral, acid or alkaline pH levels, in loam, clay, chalk or sand based soils but will prefer an east or south facing aspect in a sheltered location.
Ecologically this plant will attract pollinating insects such honey bees but has been known to repel the adult stages of some lepidoptera.
The Royal Horticultural Society have given it their prestigious Award of Garden Merit.
Maintenance: this plant requires little to no maintenance. Dead or damaged material may be removed in spring. This plant will tolerate a hard pruning but this will reduce flowering as its inflorescence appears on second year wood (the above image would be a mass of flowers had not been pruned last year).