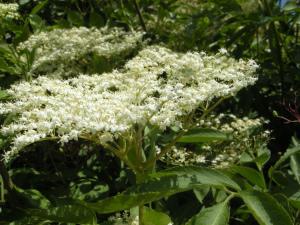 Sambucus nigra flower (21/05/2011, London)
Position: Flourishes in full sun to partial shade.
Soil: moist and well drained.
Flowering period: Early ummer.
Eventual Height: 6m
Eventual Spread: 6m
Hardiness: USDA Zone 4a-10a
Family: Adoxaceae
Sambucus nigra is a deciduous shrub with a tall upright columnar habit. Its large leaves are pinnate with five ovate, toothed, mid green leaflets. It bears musk scented white flowers in panicles up to 20cm across. The plant is monoecious with hermaphroditic flowers. Spherical, glossy black fruit follows these.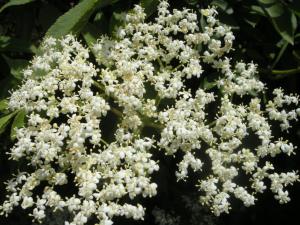 Sambucus nigra flowers (21/05/2011, London)
Native to Europe, north Africa and south west Asia, S. nigra is commonly known as Elderberry and produces berries that can be consumed when ripe but may require cooking to break down residual poisonous alkaloids. They will complement apples or blackberries. It is also used to make Elderflower Cordial, a drink produced by steeping the flowers in a mixture of refined sugar and water sometimes using lemon and other ingredients.
Sambucus  is the ancient Latin name of the plant, possibly derived from sambuca- the Latin name of a musical instrument made from the wood of the elderberry. nigra is Latin meaning 'black'.
This plant may be usefull to the landscape architect as part of a native woodland edge mix or native hedge mix. It should only be used in locations where a tidy appearance is not critical.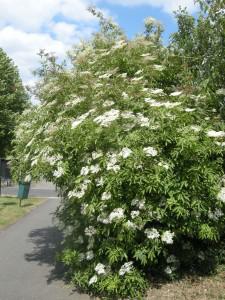 Sambucus nigra (21/05/2011, London)
This plant will tolerate almost any soil conditions; it will be happy in acid, neutral or alkaline pH levels, in loam, sand, clay or chalk in a sheltered or exposed location facing any aspect and will even tolerate waterlogged conditions.
This plant is ecologically valuable and will cater for many pollinating insects such as honey bees, it will also attract birds that will both eat the berries and use the plant for shelter or as a nesting site.
Maintenance: Requires little to no care if dead or damaged material needs to be removed this can be carried out in late winter or early spring. This plant can withstand a hard pruning.