Position: Flourishes in full sun to partial shade.
Soil: Moist but well drained.
Flowering period: Late spring to early summer.
Eventual Height: 3m
Eventual Spread: 5m
Hardiness: USDA Zone 4a-7b
Family: Salicaceae
Salix elaeagnos subsp. angustifolia is a deciduous shrub with a dense upright habit. It has slender, grey, velvety shoots that later become yellow-red to almost brown. Its linear, entire, dark green leaves are grey when young and white hairy underneath becoming yellow in autumn. This shrub is mostly dioecious and produces slender, green catkins in spring with the new leaves. The male catkins will have yellow anthers.
Native to central and southern Europe and southwest Asia, S. elaeagnos has been known by many names in the past, especially among the botanical community. Its synonyms include; S. incana, S. lavandulifolia, S. rosmarinifolia and it is commonly known as Rosemary Willow or Hoary Willow with the subspecies being the Narrow-leaved Rosemary Willow.
Salix is the old Latin name for the willow tree and is possibly derived from the old Celtic 'sal' meaning near and 'lis' meaning water, with elaeagnos being derived from the Greek elaia meaning 'olive' and agnos meaning 'pure', possibly referring to the fruit. angustifolia is derived from the Latin, meaning 'narrow leaved'.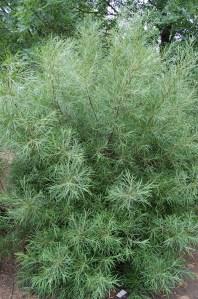 Salix elaeagnos subsp. angustifolia (16/05/2011, Paris)
This plant is usefull to the landscape architect as a low maintenance attractive fine leaved shrub which is moderately drought tolerant.
This plant will tolerate almost any soil conditions; it will be happy in acid, neutral or alkaline pH levels, in loam, sand, clay or chalk in a sheltered or exposed location but may not thrive in a north facing position.
This plant attracts pollinating insects such as bees and butterflies and some species of Lepidoptera will consume the foliage in their larval form.
The Royal Horticultural Society have given it their prestigious Award of Garden Merit.
Maintenance: This shrub requires little to no maintenance. Like its namesake rosemary, it can withstand a heavy pruning if required. If pruning as a tree this should be carried out in winter, dead or damaged material can be removed at this time also.