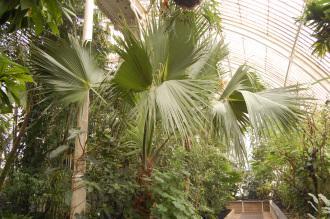 Sabal bermudana (23/03/2012, Kew Gardens, London)
Position: Full sun
Flowering period: Early summer
Soil: Moist, well drained
Eventual Height: 10m
Eventual Spread: 5m
Hardiness: 8b, 9a, 9b, 10a, 10b, 11
Family: Arecaceae
Sabal bermudana is a slow growing evergreen palm tree with a single stem. Its mid green leaves are arranged in a fan shape composed of up to 60 leaflets and up to 2m long. Each leaflet is up to 1m long. Its trunk may achieve a diameter of up to 55cm. Its yellow/ white flowers are up to 5mm across and are arranged in panicles which are up to 2.5m long. Its dark brown/ black fruit is a drupe and is up to 1cm long.
Sabal bermudana, commonly known as Bermuda Palmetto or Bibby Tree, is native to Bermuda.This palm is Endangered according to the IUCN Red List of Threatened Species.
The etymological root of the binomial name Sabal is probably derived from the Native American name for this palm. Bermudana is derived from the Latin meaning 'from Bermuda'.
The landscape architect may find Sabal bermudana useful as a frost tolerant palm tree. This palm is also suitable for maritime climates.
Ecologically, Sabal bermudana flowers are attractive to pollinating insects. The fruit of this palm is attractive to some birds.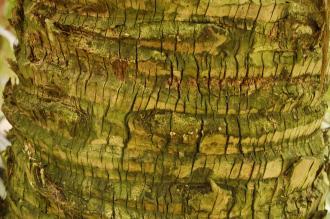 Sabal bermudana Bark (23/03/2012, Kew Gardens, London)
Sabal bermudana prefers moist, fertile, well-drained soils. It tolerates most pH of soil.
Sabal bermudana requires little maintenance.