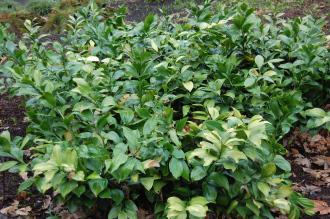 Ruscus colchicus (09/02/2013, Kew Gardens, London)
Position: Full sun to shade
Flowering period: Winter
Soil: Moist, well drained
Eventual Height: 50cm
Eventual Spread: 60cm
Hardiness: 7a – 9b
Family: Asparagaceae
Ruscus colchicus is a slow growing, evergreen spreading shrub. Its dark green leaves (which are actually flattened stems) are elliptic with entire margins, up to 13cm long and 5cm wide. Its green flowers appear at the true leaf axil and are up to 8mm long. Its red fruit is a berry and are up to 1cm across. Its roots are rhizomes which aids its spread.
Ruscus colchicus is native to the Caucasus region. In its native habitat it grows as an understory ground cover plant within deciduous woodlands.
The etymological root of the binomial name Ruscus is from the Latin name for this plant Ruscum. Colchicus is derived from the Latin and is named after the Black Sea port, Colchis.
The landscape architect may find Ruscus colchicus useful as an effective evergreen, ground cover plant, particularly in a woodland setting. Once established this plant will tolerate periods of drought.
Ecologically, Ruscus colchicus berries are attractive to some birds and mammals.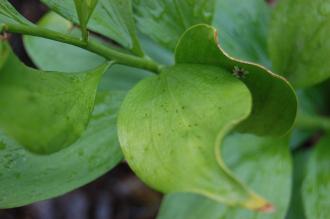 Ruscus colchicus Leaf and Flower (09/02/2013, Kew Gardens, London)
Ruscus colchicus prefers moist, humus rich, well-drained soils. It tolerates most pH of soil.
Ruscus colchicus requires little maintenance.