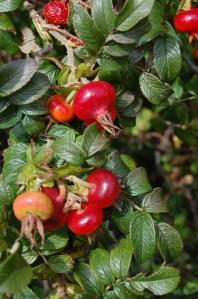 Rosa rugosa hip (17/07/2011, Margate)
Position: Full sun to partial shade
Soil: Moist, well drained soil
Flowering period: Summer to autumn
Eventual Height: 2m
Eventual Spread: 2m
Hardiness: USDA Zone 2a-9b
Family: Rosaceae
Rosa rugosa is a deciduous shrub with a sprawling, bushy habit. Its foliage, borne on the densely packed and extremely thorny stems is glossy, wrinkled, pinnate and mid green. Its flowers are single, white or red and fragrant with slightly wrinkled petals. Following the summer to autumn inflorescence are large, red, sweet hips that resemble tomatoes in appearance.
R. rugosa commonly known as the Ramanas Rose, is native to part of eastern Asia including northern China, Japan and Korea. Both the sweet fruit and the leaves may be used to make tea and many parts of the plant are unusually high in vitamins, for example the seeds may be ground to produce a vitamin E substitute and the fruit contains high quantities of vitamin C.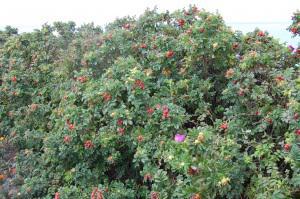 Rosa rugosa hedge (17/07/2011, Margate)
Rosa is the ancient Latin for the Rose plant, with rugosa also being Latin meaning 'full of wrinkles'.
The landscape architect may use this plant as an effective informal, flowering thorny hedge It is particularly useful in the maritime environment as it is tolerant of salty coastal conditions.
The Royal Horticultural Society gave the cultivars Rosa rugosa 'Alba' and 'Rubra' and Rosa 'Blanche Double de Coubert'(Ru), 'Fru Dagmar Hastrup'(Ru), 'Pink Grootendorst'(Ru), 'Roseraie de l'Hay'(Ru), 'Scabrosa'(Ru) and 'Schneezwerg'(Ru) their prestigious Award of Garden Merit in 1993 and Rosa 'Agnes'(Ru) attained the award in 2002.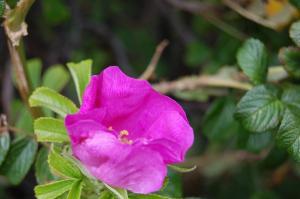 Rosa rugosa flower (17/07/2011, Margate)
This plant will tolerate almost any soil conditions; it will be happy at neutral, alkaline or acid pH levels, in loam, sand, chalk or clay based soils, facing any sheltered or exposed aspect.
Ecologically this plant will attract many pollinating insects, such as honey bees and butterflies. It will also attract birds with its hips and the larval form of some species of lepidoptera will feed on its foliage.
Maintenance: This plant may be pruned in late winter and an RHS guide to the maintenance of shrub roses may be found here.