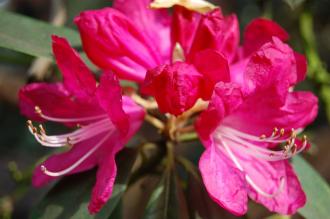 Rhododendron arboreum Flower (11/03/2012, Kew, London)
Position: Dappled shade
Flowering period: Early to mid spring
Soil: Moist, well drained, acidic
Eventual Height: 12m
Eventual Spread: 12m
Hardiness: 7b – 9b
Family:  Ericaceae
Rhododendron arboreum is a large evergreen shrub or small tree with a rounded habit. Its glossy dark green leaves are leathery, oblong to lanceolate, up to 20cm long and 4cm wide with velvet like texture on the underside. Its trunk is crooked, gnarled and multi branched. The bark is reddish brown in colour, soft, rough and exfoliates thin flakes. Its red/ pink flowers are borne in trusses of up to 20 blossoms and are bell or trumpet-shaped. The fruit is capsule like, oblong curved and longitudinally ribbed and up to 4cm long. The seeds are minute, dark brown, compressed and oblong.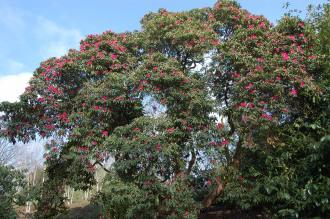 Rhododendron arboreum (11/03/2012, Kew, London)
Rhododendron arboreum, commonly known as the Rose Tree, Lali Gurans (in Nepal) or Rhododendron, is native to places found in Bhutan, China, India, Nepal, Sri Lanka and Thailand. It is the national flower of Nepal. It was discovered by Captain Hardwick in Kashmir in 1796 and was first introduced into the UK in 1811 where the plant flowered for the first time in 1825. Rhododendron arboreum was crosssed with Rhododendron caucasicum by Anthony Warterer in 1830 to form a hybrid that is hardier and early flowering than most Rhododendrons.
The etymological root of the binomial name Rhododendron is derived from the Greek rodon 'a rose' and dendron 'a tree'. Arboreum is derived from the Latin arbor 'tree', referring to the plants tree like characteristics.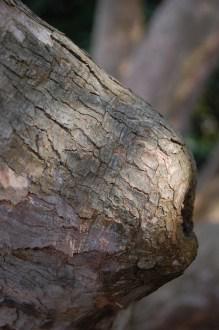 Rhododendron arboreum Bark (11/03/2012, Kew, London)
The landscape architect may find Rhododendron arboreum useful as a large, evergreen screening plant with attractive flowers. It also makes an excellent specimen plant. As it prefers to be located in dappled shade, it is suitable for woodland planting schemes.
Ecologically, R. arboreum does not posses much ecological value in the UK as its nectar is poisonous to bees.
R. arboreum prefers moist, humus rich, well-drained soils. It prefers an acidic pH of soil.
R. arboreum requires little maintenance.