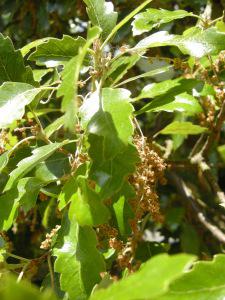 Quercus suber detail (08/06/2011, Cambridge)
Position: Flourishes in full sun to partial shade.
Soil: Moist and well drained.
Flowering period: Summer
Eventual Height: 30m
Eventual Spread: 22m
Hardiness: USDA Zone 7a-11a
Family: Fagaceae
Quercus suber is an evergreen tree with a round headed habit. Its  leathery, oval and weakly lobed leaves are glossy and dark green above and greyish beneath. Its inflorescence appearing in inconspicuous sprays is monoecious, wind pollinated. The fruit is an acorn but it does not usually produce these in our colder temperate climate.
Commonly known as Cork Oak, Q. suber  is native to southwest Europe and northwest Africa but has been cultivated all over the world in temperate climates. Its bark, the source of cork, is used for many purposes due to its unique properties as a natural material. Its uses vary from traditional musical instruments to the heat shielding used on space shuttles. The harvesting of the cork does not harm the tree and is usually carried out on a nine year cycle. It is thought the cork bark of this tree gave it an ecological advantage during forest fires; as it is fire proof and enabled it to survive when most other plant species rely on their seed stock in the soil to regenerate.
This plants binomial name was created by combining two classical names of members of the oak genus Quercus and Suber.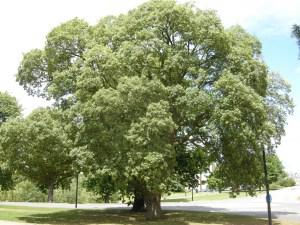 Quercus suber (08/06/2011, Cambridge)
The Landscape architect may find this plant useful as a specimen tree where space allows.
This plant will tolerate almost any soil conditions; it will be happy in acid, neutral or alkaline pH levels, in loam or clay based soils in a sheltered or exposed location facing any aspect.
Ecologically forests of this plant create habitats that support endangered species such as the Barbary Macaque and Iberian Lynx. It does not however support many organisms that feed on foliage; its fresh foliage being used to discourage slugs from gardens, although the larval stages of many lepidoptera feed upon it.
Maintenance: may require formative pruning for prolonged tree health. Dead or damaged material may be removed in late autumn through winter.