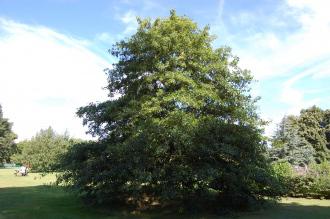 Quercus coccinea (08/09/2012, Kew Gardens, London)
Position: Full sun to light shade
Flowering period: Spring
Soil: Well drained, acidic
Eventual Height: 25m
Eventual Spread: 15m
Hardiness: 4b – 9b
Family: Fagaceae
 Quercus coccinea is a  medium/ large deciduous tree with an open, rounded crown. Its glossy mid green leaves are alternate, ovate with seven lobes, each lobe having up to 7 bristle tipped teeth, up to 17cm long and 13cm broad. Its leaves turn bright red or scarlet in autumn before they fall. Its bark is grey/ brow, smooth on young trees developing irregular broad ridges with age. The tree is monoecious, its flowers appear in the form of yellow/ green male catkins and small female flowers, these appear at the same time as the leaves. Its fruit are acorns and are ovoid, up to 13mm broad and 30mm long, these take 18 months to mature after pollination.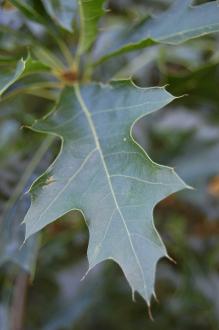 Quercus coccinea Leaf (08/09/2012, Kew Gardens, London)
Quercus coccinea, commonly known as the Scarlet Oak, is native to Eastern United States and the extreme south east corner of Canada. In its native habitat it is found on acidic, dry, sandy soils.
The etymological root of the binomial name Quercus is derived from the Latin name for an Oak tree; some authorities derive the word from Celtic, quer, fine and cuez, a tree. Coccinea s from the Latin meaning 'of scarlet colour', in reference to the autumn leaf colour of this tree.
The landscape architect may findQuercus coccinea useful as an attractive specimen tree with fantastic autumn colour. Once established this tree is drought tolerant.
Ecologically, Quercus coccinea acorns are attractive to some mammals and birds.
The Royal Horticultural Society has given the variety Quercus coccinea 'Splendens' their prestigious Award of Garden Merit in 1993.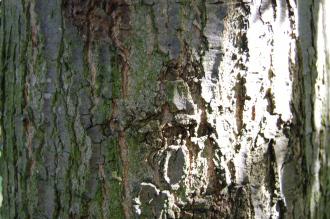 Quercus coccinea Bark (08/09/2012, Kew Gardens, London)
Quercus coccineaprefers moist, well-drained sandy soils. It tolerates a neutral to acidic pH of soil, although it prefers an acidic soil which will produce the best autumn colour. It will not tolerate we soils.
Quercus coccinearequires little maintenance.