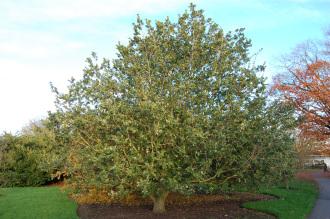 Quercus chrysolepis (18/11/2012, Kew Gardens, London)
Position: Full sun to partial shade
Flowering period: Spring
Soil: Moist, well drained
Eventual Height: 30m
Eventual Spread: 25m
Hardiness: 7a – 9b
Family: Fagaceae
Quercus chrysolepis is a variable, evergreen tree with a broad, rounded crown. Its glossy, leathery dark green leaves are elliptic with prominent spins to its margins, up to 8cm long and 4cm broad. The underside of its leaves are a dull golden brown. Its trunk may achieve a diameter of up to 1m. Its light gray bark is smooth, becoming scaly with age. Its flowers are monoecious, the male being catkins, the female being solitary and are wind pollinated. Its fruit are acorns, ovoid in shape and up to 5cm long.
Quercus chrysolepis, commonly known as the Canyon Oak or Golden Cup Oak, is native to south west North America. In its native habitat it is a dominant sub-canopy species. Historically the acorns were eaten by Native Americans.
The etymological root of the binomial name Quercus is derived from the Latin name for an Oak tree; some authorities derive the word from Celtic, quer meaning 'fine' and cuez meaning 'a tree'. Chrysolepis is derived form the Greek crysos meaning golden and lepis meaning 'peel'.
The landscape architect may find Quercus chrysolepis useful as an unusual evergreen specimen tree.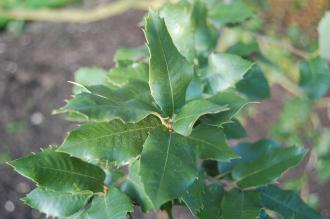 Quercus chrysolepis Leaf 18/11/2012, Kew Gardens, London)
Ecologically, Quercus chrysolepis acorns are attractive to some birds and mammals.
Quercus chrysolepis prefers moist, fertile, well-drained soils. It tolerates most pH of soil.
Quercus chrysolepis requires little maintenance.