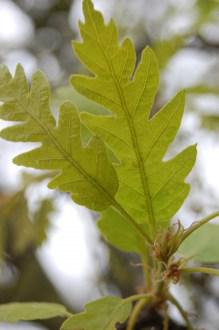 Quercus cerris Leaf (05/05/2012, Kew London)
Position: Full sun to light shade
Flowering period: Summer
Soil: Moist, well drained
Eventual Height: 40m
Eventual Spread: 25m
Hardiness: 6a – 9a
Family: Fagaceae
Quercus cerris is a fast growing large, broad deciduous tree. Its glossy mid green leaves are alternate, up to 14 cm long and  5 cm wide, with 7 – 8 varying  triangular lobes on each side, the leaves are also pubescent with stellate hairs on the lower surface. Its trunk may achieve a diameter of 2m and its bark is dark gray and deeply furrowed. The tree is monoecious, its flowers appear in the form of 5cm long male catkins and small female flowers appearing at the base of the leaves . The fruit matures 18 months after pollination and is a large acorn, up to 4 cm long and 2 cm broad, densely covered in soft 'mossy' bristles.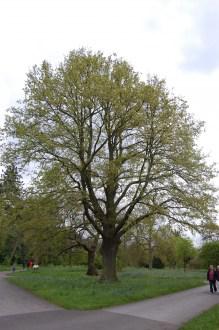 Quercus cerris (05/05/2012, Kew London)
Quercus cerris, commonly known as Turkey oak, is native to south central and south east Europe and parts of south west Asia. The species range extended to northern Europe  (including the UK) before the previous ice age, about 120, 000 years ago. It was introduced into Britain in 1735. Quercus cerris is naturalized in much of Europe. It will readily hybridise with Quercus suber resulting in Quercus x hispanica.
The etymological root of the binomial name Quercus is derived from the Latin name for an Oak tree; some authorities derive the word from Celtic, quer, fine and cuez, a tree. Cerris is derived from the Latin cerrus the ' Turkey Oak'.
The landscape architect may find Quercus cerris useful as a large specimen tree.
Ecologically, Q. cerris acorns are attractive to mammals and birds.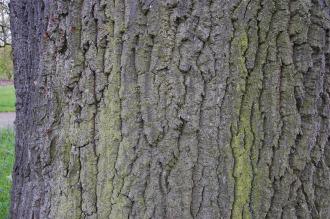 Quercus cerris Trunk (05/05/2012, Kew London)
Q. cerris prefers moist, fertile, well-drained soils. It tolerates most pH of soil, particularly lime rich soils.
Q. cerris requires little maintenance.