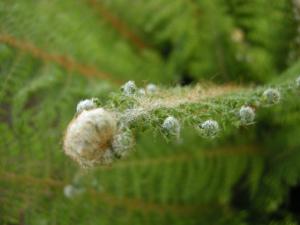 Polystichum setiferum detail (01/05/2011, London)
Position: Partial to full shade.
Soil: Moist, well drained.
Eventual Height: 1.2m
Eventual Spread: 90cm
Hardiness: USDA Zone 5a-9a
Family: Dryopteridaceae
Polystichum setiferum is a terrestrial, semi-evergreen fern. Its bright green bi-pinnate fronds are arranged in shuttlecocks and up to 120cm long. The pinnate lobes are ovate, bristle toothed, stalked and obtusely angled at the point of attachment to the midribs. Its root are rhizomes.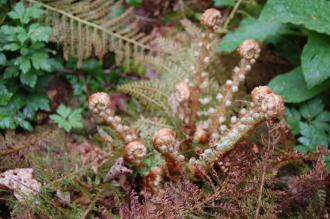 Polystichum setiferum Emerging Frond (05/05/2012, Kew Gardens, London)
Polystichum setiferum, commonly known as the Soft Shileld Fern, is native to the Western Europe, including the UK. In its native habitat it grows in woodlands and occasionally steep slope.
Polystichum setiferum 'Herrenhausen' is darker green and the foliage is finer than the species. Once unwound the frond retains a knot of silver white hairs at its tip.
The etymological root of the binomial name Polystichum is from the Greek polys meaning 'many' and stichos meaning 'a row', first used by German botanist Albrecht Roth to describe the spore cases on the back of the leaves. Setiferum was given to it by Austrian botanist Heinrich Woynar meaning "bearing bristles'.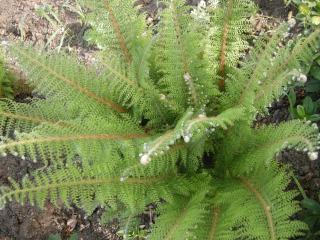 Polystichum setiferum (01/05/2011, Kew Gardens, London)
The landscape architect may find Polystichum setiferum useful in shady damp locations. It is suitable plant to include in woodland schemes. Once established this plant is drought tolerant.
Polystichum setiferum will tolerate acid, neutral or alkaline pH levels, and loam, sand, clay or chalk soils, and will tolerate any aspect including exposed locations.
The Royal Horticultural Society have given Polystichum setiferum their prestigious Award of Garden Merit.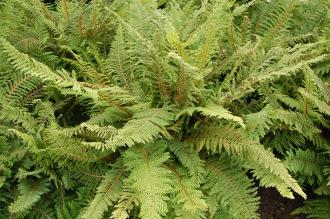 Polystichum setiferum 'Herrenhausen' (28/07/2012, Kew Gardens, London)
Polystichum setiferum requires little maintenance. Older leaves may be removed to give the plant a tidy appearance.