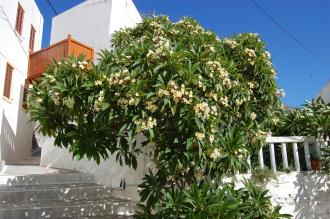 Plumeria rubra (05/09/2013, Nisyros, Greece)
Position: Full sun to partial shade
Soil: Moist, well drained
Flowering period: Summer to early autumn
Eventual Height: 8m
Eventual Spread: 8m
Hardiness:10b, 11, 12
Family: Apocynaceae
Plumeria rubra is an deciduous large shrub or small tree with a spreading, vase shaped habit. Its mid green leaves are lanceolate with entire margins, up to 40cm long and 15cm broad. Its white to dark pink flowers have yellow centres, five petals, are very fragrant and are up to 7.5cm across. Its fruit is a pod which is up to 17cm long and contains winged seeds.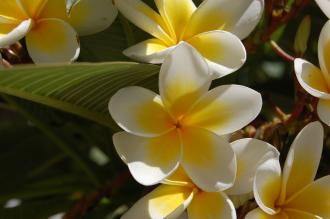 Plumeria rubra Flower (05/09/2013, Nisyros, Greece)
Plumeria rubra, commonly known as Frangipani, Red Frangipani or Temple Tree, is native to Central America. This shrub has naturalised in large parts of south east Asia.
The etymological root of the binomial name Plumeria is named after Charles Plumier (1646 – 1704), a French botanist who discovered this genus. Rubra is from the Latin meaning 'red'.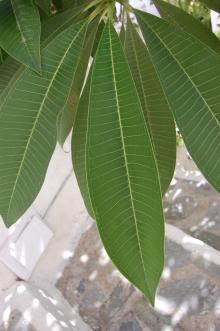 Plumeria rubra Leaf (05/09/2013, Nisyros, Greece)
The landscape architect may find Plumeria rubra useful as an attractive free flowering, large fragrant shrub. It should be noted the sap of this plant may be irritating to the skin. Once established this shrub is drought tolerant.
Ecologically, Plumeria rubra flowers are attractive to moths.
The Royal Horticultural Society have given Plumeria rubra their prestigious Award of Garden Merit in 2002.
Plumeria rubra prefers moist, fertile, well-drained soils. It tolerates most pH of soil.
Plumeria rubra requires little maintenance.