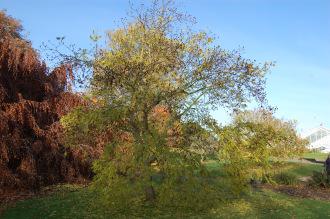 Platycarya strobilacea (18/11/2012, Kew Gardens, London)
Position: Full sun to light shade
Flowering period: Late spring to early summer
Soil: Moist, well drained
Eventual Height: 12m
Eventual Spread: 12m
Hardiness: 7b – 11
Family: Juglandaceae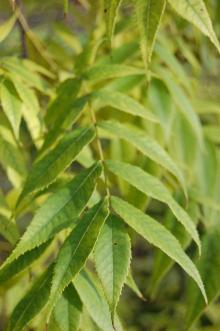 Platycarya strobilacea Leaf (18/11/2012, Kew Gardens, London)
Platycarya strobilacea is a deciduous small tree or large shrub. Its light green leaves are odd pinnate, up to 30cm long with up to 15 leaflets. Its leaflets are lanceolate with serrulate margins, up to 11cm long and 3.5cm broad. Its leaves turn yellow/ green before they fall in autumn. Its grey/ brown bark is fissured. Its monoecious green/ yellow flowers are catkins, the male being erect, up to 8cm long and appear in clusters of up to 8. The female flower appears at the center of the male cluster and is a cone like structure. Its brown fruit is an ovoid cone like structure, up to 5cm tall, 3cm broad, are produced in late summer and are retained on the tree during the winter months. These structures contain numerous winged seeds.
Platycarya strobilacea, commonly known as the Broad Nut, is native to eastern Asia, including China, Taiwan, Korea and Japan. In its native habitat it grows at the margins of mixed forests on mountain slopes. Platycarya strobilacea is the only species within this genus. Philipp Franz von Siebold (1796 – 1866), a German physician who obtained significance for his study of Japanese flora and fauna, found this tree in Japan in 1843.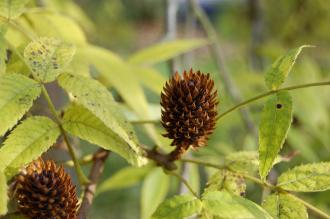 Platycarya strobilacea Fruit (18/11/2012, Kew Gardens, London)
The etymological root of the binomial name Platycarya is derived from the Greek platus meaning 'broad' and Karia, the ancient Greek name for the 'Walnut'. Strobilacea is derived from the Greek strobilos meaning 'round ball'.

The landscape architect may find Platycarya strobilacea useful as a small unusual attractive tree with good autumn leaf color and interesting winter fruit.
Ecologically, Platycarya strobilacea seeds are attractive to some birds and mammals.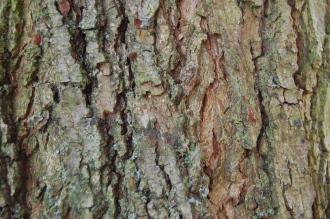 Platycarya strobilacea Bark (18/11/2012, Kew Gardens, London)
Platycarya strobilacea prefers moist, fertile, well-drained soils. It tolerates most pH of soil.
Platycarya strobilacea requires little maintenance.