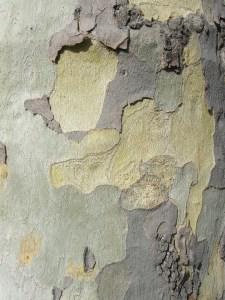 Platanus x acerifolia bark (12/09/2011, London)
Position: Full sun    
Flowering period: Spring
Soil: Well drained
Eventual Height: 35m
Eventual Spread: 20m
Hardiness: USDA Zones 3a – 10b
Family: Platanaceae
Platanus x acerifolia is a large deciduous tree with a wide trunk 3m or more in circumference when fully mature. It's bark is quite smooth and exfoliates in plates revealing creamy yellow/olive green inner bark with the outer bark being tan grey in colour. The leaves of the this tree are broad and palmately lobed with a stiff texture and coarsely toothed margins. The are maple like in appearance with a 3-10 cm petiole. In springtime it's leaves are coated with small stiff hairs which wear off by summertime. The insignificant flowers are monoecious and bloom in April. These develop into groups of two to three dense 2cm spherical seed clusters on a pendulous stem which have numerous stiff hairs which aid wind dispersal of the individual 3mm seeds during the winter months. These seeds may exacerbate breathing difficulties in asthma suffers.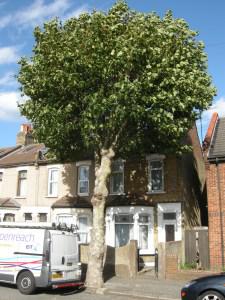 Platanus x acerifolia street tree (12/09/2011, London)
P. acerifolia,  commonly known as the London Plane, was first recorded in Spain around the 17th century and is thought to be a hybrid of the American Plane and Oriental Plane of southeastern Europe and Asia. It was for the first time described in botanical literature by Scottish botanist William Aiton in his 1789 work Horstus Kewensis as a variety of the Platanus orientalis and named it the Spanish Plane Tree. This tree is also known as Platanus x hispanica although this is a nomen dubium. The reason it is called the London Plane tree is due to its extensive use throughout the city of London. It is described as the worlds most reliable city tree being able to cope with polluted conditions.
The name Platanus is derived from the Greek name for Plane tree. Acerifolia is derived from the Latin meaning leaves like an Acer.
The landscape architect may find this plant useful as a robust street tree as it is able to tolerate polluted conditions with poor drainage. In the street setting this tree is often pollarded to provide a more compact specimen. It is also suitable as a large specimen tree in a parkland settings.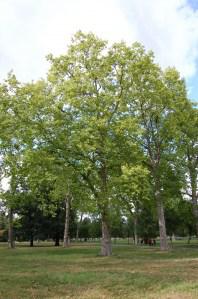 Platanus x acerifolia park tree (17/09/2011, London)
Ecologically this tree provides a valuable source of food in the form of it's seed for some birds and squirrels during the winter months.
This plant prefers moist but well drained soil conditions. It prefers soils with a pH between acid and alkali. It prefers a soil with particle sizes between sand and clay.
The Royal Horticultural Society has given this tree their prestigious Award of Garden Merit to P. acerifolia in 1993.
Maintenance: P. acerifolia responds well to pollarding, this should be carried out during spring.