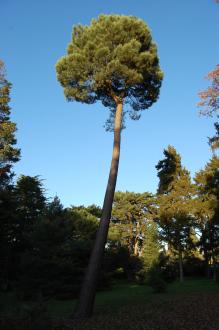 Pinus pinaster (18/11/2012, Kew Gardens, London)
Position: Full sun
Flowering period: Late spring
Soil: Moist, well drained
Eventual Height: 35m
Eventual Spread: 7m
Hardiness: 8a – 10a
Family: Pinaceae
Pinus pinaster is a medium sized, fast growing, upright evergreen tree, with an open crown. Its blue/ green leaves are needles, appear in pairs, are up to 25cm long and 2mm broad. Its trunk may achieve a diameter of up to 1.2m. Its orange/ red bark thick and deeply fissured towards the base, becoming thinner towards its crown. Its flowers are monoecious, are wind pollinated and are not self fertile. Its fruit are cones, are conical, up to 20cm long and 6cm broad. These are initially green, maturing to red/ brown.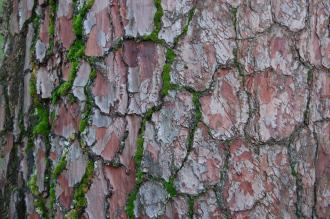 Pinus pinaster Bark (18/11/2012, Kew Gardens, London)
Pinus pinaster, commonly known as the Maritime Pine, Pinaster or Cluster Pine, is native to the western and south western Mediterranean region. including Morocco and Algeria. It naturalised in Australia and South Africa. It is becoming an invasive species in South Africa.
The etymological root of the binomial name Pinus is the old classical name for 'Pine tree'. Pinaster is from the Latin meaning ' wild pine', as named by Pliny.

The landscape architect may find Pinus pinaster useful as a parkland or shelter belt tree in exposed conditions. It may be used to stabilise sand soils. Once established this tree is drought tolerant. It is tolerant of maritime exposure.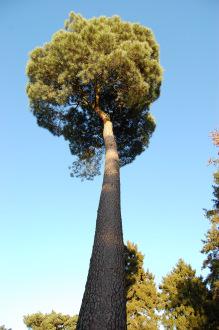 Pinus pinaster View (18/11/2012, Kew Gardens, London)
Ecologically, Pinus pinaster seed may attract some birds and mammals.

The Royal Horticultural Society has given Pinus pinaster their prestigious Award of Garden Merit in 1993.
Pinus pinaster prefers moist, sandy or gravelly, well-drained soils. It tolerates most pH of soil. It will tolerate nutrient poor soils. It will not tolerate waterlogged soils.
Pinus pinaster requires little maintenance.