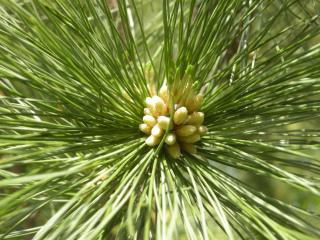 Pinus peuce Flower (17/05/2012, Prague, Czech Republic)
Position: Full sun
Flowering period: Early Summer
Soil: Moist, well drained
Eventual Height: 40m
Eventual Spread: 15m
Hardiness: 2a – 7a
Family: Pinaceae
Pinus peuce is a slow growing, evergreen tree with a broadly pyramidal crown. Its mid green leaves are needle like, appear in bundles of five, are up to 10cm long. Its branches. Its trunk may achieve a diameter of up to 1.5m. Its bark is silver gray on young trees, darkening with age.. Its flowers. Its pendulous cones are up to 16cm long, are slightly curved, are initially green, maturing to brown/ yellow.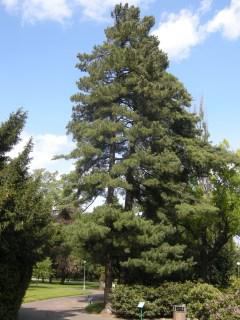 Pinus peuce (17/05/2012, Prague, Czech Republic)
Pinus peuce, commonly known as Macedonian Pine or Balkan Pine, is native to south east Europe, including the Balkan mountains. This species of tree often reaches the tree line in alpine area.
The etymological root of the binomial name Pinus is derived from the Latin name for Pine tree. Peuce is derived from the Greek peuke meaning 'Pine tree'
The landscape architect may find Pinus peuce useful as a large parkland tree where harsh winters are expected. Please note this tree will only grow in the coldest pats of Scotland in the UK.
Ecologically, P. peuce seeds are attractive to some species of birds.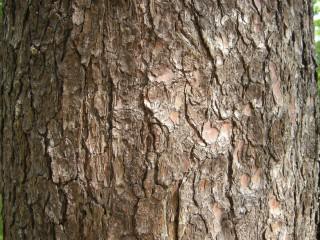 Pinus peuce Bark (17/05/2012, Prague, Czech Republic)
P. peuce prefers moist, fertile, well-drained soils. It tolerates most pH of soil. It will not tolerate water logging.
Pinus peuce requires little maintenance.