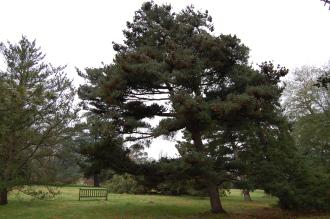 Pinus parviflora (09/02/2013, Kew Gardens, London)
Position: Full sun
Flowering period: Late spring
Soil: Moist, well drained
Eventual Height: 17m
Eventual Spread: 17m
Hardiness: 4b – 8b
Family: Pinaceae
Pinus parviflora is a slow growing evergreen coniferous tree with a spreading habit. Its green/ blue leaves are needle like, appear in bundles of 5 and up to 6cm long. Its gray bark is smooth on younger trees, becoming darker and scaly with age. Its flowers are in the form of small pollen cones. Its light brown fruit is a cone and up to 7cm long.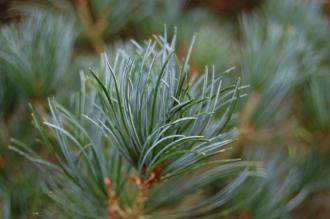 Pinus parviflora Leaf (09/02/2013, Kew Gardens, London)
Pinus parviflora, commonly known as the Japanese White Pine or Japanese Five Needle Pine, is native to Japan.
The etymological root of the binomial name Pinus is the old classical name for 'Pine tree'. Parviflora is derived from the Latin parvitas meaning 'smallness' and flora meaning 'flower'.
The landscape architect may find Pinus parviflora useful as an attractive specimen tree. This tree is moderately salt tolerant. This tree is not attractive to deer.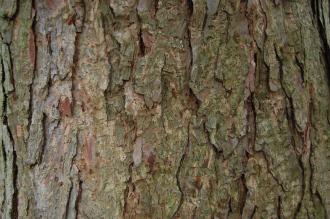 Pinus parviflora Bark (09/02/2013, Kew Gardens, London)
Ecologically, Pinus parviflora is of little value ti UK wildlife.
The Royal Horticultural Society has given the variety  Pinus parviflora 'Adcock's Dwarf'' their prestigious Award of Garden Merit in 1993.
Pinus parviflora prefers moist, well-drained soils. It tolerates most pH of soil.
Pinus parviflora requires little maintenance.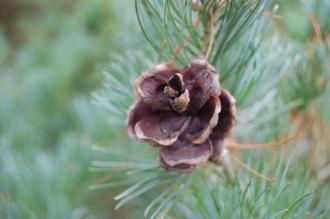 Pinus parviflora Cone (09/02/2013, Kew Gardens, London)