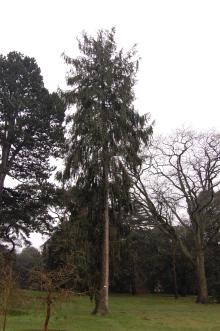 Picea smithiana (23/03/2013, Kew Gardens, London)
Position: Full sun to light shade
Flowering period: Summer
Soil: Moist, well drained
Eventual Height: 55m
Eventual Spread: 7m
Hardiness: 7a, 7b, 8a, 8b, 9a
Family: Pinaceae
Picea smithiana is a slow growing evergreen coniferous tree with a conical to columnar habit. Its mid green leaves are needle like, up to 5cm long (these are the longest of any Spruce) and 1.8mm broad. Its branches are pendulous. Its trunk may achieve a diameter of up to 2m. Its pale brown bark breaks into irregular platelets as the tree matures. Its monoecious flowers are pollen cones and juvenile cones. Its fruit are in the form of cones, up to 16cm long and 3cm broad.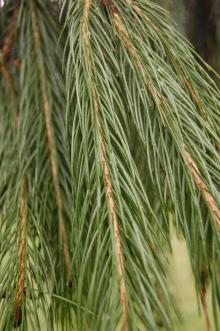 Picea smithiana Leaf (23/03/2013, Kew Gardens, London)
Picea smithiana, commonly known as Morinda Spruce or West Himalayan Spruce, is native to west Himalaya. In its native habitat it grows coniferous forests at an altitude of 2,400m to 3,600m.
The etymological root of the binomial name Picea is derived from the Lain Pix meaning 'pitch or tar' in reference to the Spruce trees resin. Smithiana is likely to be named after James Edward Smith (1759-1828), an English botanist and founder of the Linnean Society.
The landscape architect may find Picea smithiana useful as a large upright coniferous tree with attractive pendulous branches. It will not tolerate atmospheric pollution.
Ecologically, Picea smithiana seeds are attractive to some birds and mammals.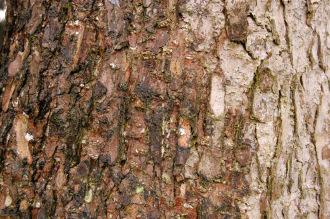 Picea smithiana Bark (23/03/2013, Kew Gardens, London)
Picea smithiana prefers moist, well-drained soils. It tolerates most pH of soil. It will tolerate nutritionally poor soils and very acidic soils.
Picea smithiana requires little maintenance.