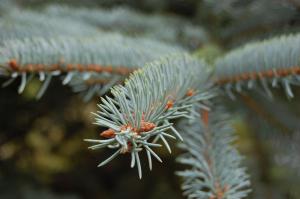 Picea pungens 'Koster' (08/10/2011, Horní Bečva, Czech)
Position: Full sun 
Flowering period: May
Soil: Moist 
Eventual Height: 4-15m (Unpredictable)
Eventual Spread: 1.5-4m (Unpredictable)
Hardiness: USDA Zones 3a-8b
Family: Pinaceae
Picea pungens 'koster' is a medium sized evergreen conifer tree with a narrow conical growth habit. It's glaucous foliage is silvery blue becoming grey-green with age. It's leaves are rigid, needle like, arranged singly all round the shoots and are 15-30mm long. The monoecious flowers are ornamentally inconspicuous. The tree gives rise to narrow hanging cylindrical cones which are 4-10 cm in length, emerge a reddish to violet colour, maturing to a pale brown. They have leathery scales and are borne near the end of the shoots. The bark of the tree is grayish black, scaled  with glossy orange brown twigs. It's trunk tapers rapidly.
P. pungens 'koster' , commonly known as the Colorado Blue Spruce, is native to the Western United States. It is a plant that displays positive phototropism as well as negative gravitropism or geotropism in its stems as it reaches towards the light out of the seed. It is found in mountain valleys, but chiefly found near streams where moisture levels are high. P. pungens was discovered in the Rocky Mountains, USA in  1861, eventually arriving in Europe in the late 19th Century. The variety P. pungens 'koster' displays a lack of uniformity between plants.
The binomial name Picea is derived from the Lain Pix meaning 'pitch or tar' in reference to the trees resin. Pungens is derived from the latin meaning 'prick, puncture or sting' in reference to the leaves.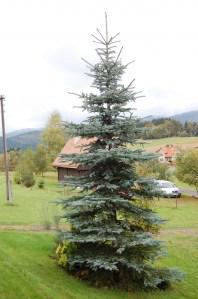 Picea pungens 'Koster' (08/10/2011, Horní Bečva, Czech)
The landscape architect may find this plant useful as an attractive evergreen specimen parkland tree, due to its blue foliage and textured effect. It also make an effective windbreak or visual screen.
Ecologically this conifer provides habitat and food for birds.
This plant has been awarded the RHS award of garden merit 1993.
This plant prefers moist soils as it is commonly found beside streams in it's native habitat. It will tolerate most soil pH although it prefers acid soils and dislikes chalky soils. It will also withstand short periods of drought (unusual for a Spruce).
Maintenance: This plant requires little maintenance.
Advertisement
Eco World Content From Across The Internet.

Featured on EcoPressed
A cheat sheet of peer-to-peer car sharing players