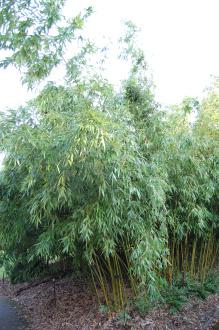 Phyllostachys viridiglaucescens (18/12/2012, Kew Gardens, London)
Position: Full sun to partial shade
Flowering period: N/A
Soil: Moist, well drained
Eventual Height: 6m
Eventual Spread: 6m
Hardiness: 6a – 9a
Family: Poaceae
Phyllostachys viridiglaucescens is a vigorous, evergreen bamboo. Its leaves are bright green on the upper surface, glaucous below, lanceolate, up to 18cm long and 22mm wide. Its canes are up to 5cm in diameter, initially bright green, maturing to yellow. Its roots are rhizome and may spread given the right conditions.
Phyllostachys viridiglaucescens, commonly known as the Green Glaucous Bamboo, Greenwax Golden Bamboo or Lufenzhu, is native to east Asia. In its native habitat it grows in woodlands and mountain slopes.
The etymological root of the binomial name Phyllostachys is derived from the Greek phyllon 'leaf' and stachys 'spike'. Viridiglaucescens is derived from the Latin viridis meaning 'fresh' and glaucus meaning 'blue/ grey'.
The landscape architect may find Phyllostachys viridiglaucescens useful as an informal hedge or screen. It dislikes exposed conditions.
Ecologically, Phyllostachys viridiglaucescens is of little wildlife value in the UK.
Phyllostachys viridiglaucescens prefers moist, fertile, humus rich, well-drained soils. It tolerates most pH of soil. It dislikes poor soils.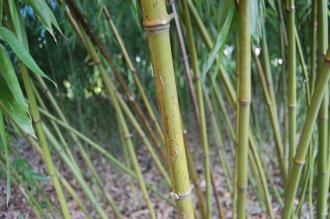 Phyllostachys viridiglaucescens Stem (18/12/2012, Kew Gardens, London)
Phyllostachys viridiglaucescens  requires little maintenance. Large clumps may b divided in spring. If the bamboo flowers, it should be cut back hard and fed with a balanced fertiliser.