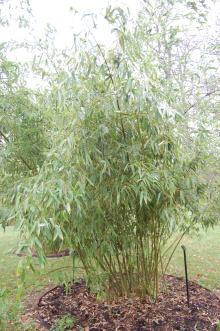 Phyllostachys parvifolia (06/01/2013, Kew Gardens, London)
Position: Full sun to light shade
Flowering period: N/A
Soil: Moist, well drained
Eventual Height: 8m
Eventual Spread: 4m
Hardiness: 6b – 10a
Family: Poaceae
Phyllostachys parvifolia is a large, evergreen running bamboo. Its mid green leaves are lanceolate with entire margins, up to 6.5cm long and 1.5cm broad. Its culms are up to 8cm in diameter, appear dark green, lightening with age and have distinctive white rings under its nodes. Its culm sheath is brown. Its roots are rhizomes which aids its spread.
Phyllostachys parvifolia, commonly known as Anji Golden Bamboo, is native to east China. The shoots of this bamboo are edible.
The etymological root of the binomial name Phyllostachys is derived from the Greek phyllon 'leaf' and stachys 'spike'. Parvifolia is derived from the Latin parvus meaning 'small' and folium meaning 'leaf.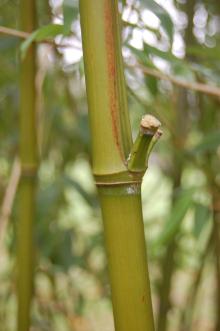 Phyllostachys parvifolia Cane (06/01/2013, Kew Gardens, London)
The landscape architect may find Phyllostachys parvifolia useful as a large evergreen screening bamboo.
Ecologically, Phyllostachys parvifolia is of little wildlife value in the UK.
Phyllostachys parvifolia prefers moist, fertile, humus rich, well-drained soils. It tolerates most pH of soil.
Phyllostachys parvifolia requires little maintenance. Root barrier may be installed at the time of planting to prevent the excessive spread of this bamboo.