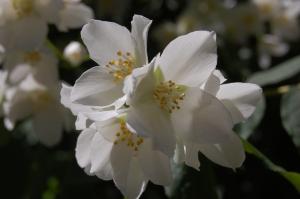 Philadelphus pubescens flower (26/05/2011, Prague)
Position:  Will flourish in full sun to partial shade.
Soil: Moist and well drained.
Flowering period: Early summer.
Eventual Height: 4m
Eventual Spread:  4m
Hardiness: USDA Zone 6a-9b
Family: Hydrangeaceae
Philadelphus pubescens is a deciduous perennial with an upright habit. Its leaves are opposite, simple, oblong to ovate, green above, gray fuzzy below. Its inflorescence is in the form of white hermaphrodite flowers with four petals and yellow anthers, similar in appearance and fragrance to orange blossoms and it is followed by dry capsules with four segments.
P. pubescens, commonly known as the Hoary Mock Orange, is native to south eastern United States.
Philadelphus was the name of an ancient Greek king of Egypt. Pubescens meaning 'downy' or 'soft' in the Latin.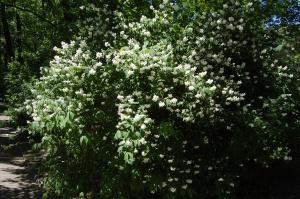 Philadelphus pubescens (26/05/2011, Prague)
This plant may be useful to the landscape architect as a medium sized shrub which is tolerant of dappled shade and has fragrant flowers.
This plant will tolerate many soil conditions; it will be happy in acid, neutral or alkaline pH levels, and in loam, sand, or chalk based soils.
Ecologically this plant will attract many pollinating insects including bees, butterflies and birds.
Maintenance: Little maintenance required. Pruning after flowering will encourage a stronger inflorescence in the next year.