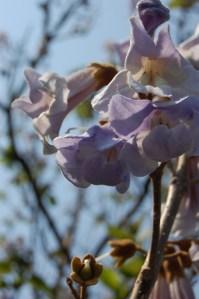 Paulownia tomentosa flower (30/04/2011, London)
Position: Full sun
Soil: Moist, well drained
Flowering period: Late spring
Eventual Height: 12m
Eventual Spread: 10m
Hardiness: USDA Zone 5b-9b
Family: Scrophulariaceae
Paulownia tomentosa is a deciduous tree with a broadly columnar habit. its stout shoots have ovate, sometimes lobed, bright light green leaves, which are long, hairy above and densely hairy beneath. It bears upright panicles of fragrant, pinkish lilac flowers with purple and yellow marks inside.
Paulownia tomentosa, commonly known as the Empress Tree, the Foxglove Tree and the Princess Tree, is native to Western and Central China. P. tomentosa has become an invasive weed in many warm climates. In Japan it was traditionally planted when a girl is born as with its fast growth rate it matured when she reached marrying age and was cut down to carve gifts for her dowry. It is also the traditional wood used for making the Koto, a Japanese traditional string instrument.
The etymological root of the binomial name Paulownia is named in honour of Anna Paulowna, a princess of The Netherlands. Tomentosa is derived from the Latin meaning 'covered in hairs'.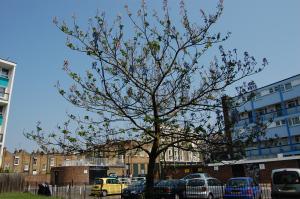 Paulownia tomentosa (30/04/2011, London)
The landscape architect may find Paulownia tomentosa is useful for its tolerance of extreme atmospheric pollution. It is also fairly hardy and produces fragrant flowers making this tree highly useful in an urban setting.
Ecologically, Paulownia tomentosa will attract pollinating insects that will feed on its nectar. Bees have been noted to frequent this plant often when available.
The Royal Horticultural Society have given Paulownia tomentosa their prestigious Award of Garden Merit.
Paulownia tomentosa will tolerate almost any soil conditions; it will be happy in acid, neutral or alkaline pH levels, in loam, sand, clay or chalk and facing any aspect so long as it is given a sheltered location.
Paulownia tomentosa requires little maintenance. Dead or damaged branches may be removed in late winter to early spring. Interestingly, if this tree is pollarded its new growth produces a crown with much larger leaves (up to 60cm long).