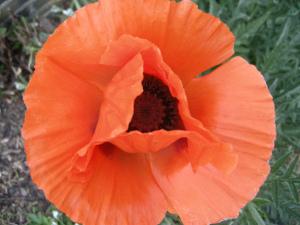 Papaver orientale flower (28/04/2011, London)
Position: Full sun to dappled shade
Soil: Moist, well drained
Flowering period: Late spring to early summer
Eventual Height: 90cm
Eventual Spread: 90cm
Hardiness: USDA Zone 3a – 9b
Family: Papaveraceae
Papaver orientale is a clump forming herbaceous perennial. It has erect, white bristled stems and pinnatisect, long, mid green leaves with lance shaped, toothed segments. In late spring, early summer it bears orange to scarlet, solitary, cup shaped flowers that have no bracts and its petals have large bluish black to white basal spots. Once flowered the foliage of this plant usually dies back and new leaves appear with the autumn rain enabling this plant to tolerate summer drought.
Papaver orientale, commonly known as the Oriental Poppy, is native to northern Iran and the Caucasus region and not to the Orient as its name suggests. It has been cultivated in many forms with a wide range of colours, including several cultivars.
The etymological root of the binomial name Papaver is the ancient Latin name of the Poppy plant. Orientale is derived from the Latin and refers to its eastern origins.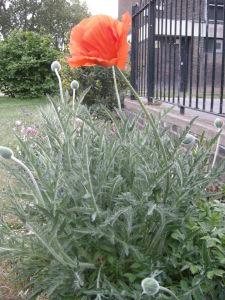 Papaver orientale (28/04/2011, London)
The landscape architect may find Papaver orientale useful as a low growing, early summer flowering specimen as part of a mixed herbaceous planting scheme. Care should be taken when selecting companion plants as the leaves of this plant usually die back to the ground after flowering which may leave a gap in the scheme. It prefers a sheltered position.
Ecologically, Papaver orientale will attract pollinating insects such as bees that will feed on its nectar.
The Royal Horticultural Society has given many varieties of  Papaver orientaletheir prestigious Award of Garden Merit.
Papaver orientale prefers moist, fertile, well-drained soils. It tolerates most pH of soil.
Papaver orientale requires little maintenance. After flowering the foliage may be cut back as it tends to become messy. Large clumps may be divided in autumn or spring.