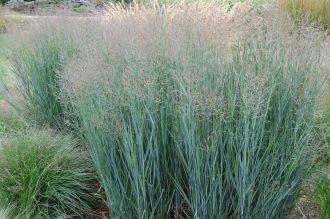 Panicum virgatum 'Heavy Metal' (21/09/2013, Kew Gardens, London)
Position: Full sun to partial shade
Flowering period: late summer to early autumn
Soil: Moist, well drained
Eventual Height: 1m
Eventual Spread: 1m
Hardiness: 4b, 5a, 5b, 6a, 6b, 7a, 7b, 8a, 8b, 9a, 9b
Family: Poaceae
Panicum virgatum 'Heavy Metal' is an upright, clump forming grass. Its blue/ green leaves are strap like. In autumn its leaves turn a yellow color. Its purple/ green flowers are finely textured and appear above the leaves. These turn beige by late autumn an are retained on the plant during the winter months. its roots are deep and fibrous and it produces rhizomes which may aid its spread.
The species Panicum virgatum, commonly known as Switchgrass, Tall Panic Grass, Blackbent, Wild Redtop and Virginia Switchgrass, is native to North America. In its native habitat it is the dominant species of the North American tall grass  prairie.
The etymological root of the binomial name Panicum is the ancient Latin name for Italian Millet. Virgatum is from the Latin meaning 'made of twigs striped'.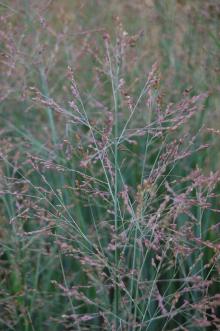 Panicum virgatum 'Heavy Metal' Flower (21/09/2013, Kew Gardens, London)
The landscape architect may find Panicum virgatum 'Heavy Metal' useful in a wide variety of situations due to its tolerance of wet to dry soils. It is suitable for low maintenance prairie type planting schemes. It is also suitable for use in SUDS schemes and rain gardens. It looks fantastic when planted en mass. Due to  its deep roots it is also useful for soil stabilisation. Once established this grass is drought tolerant.
Ecologically, Panicum virgatum 'Heavy Metal' seed is attractive to some birds.
Panicum virgatum 'Heavy Metal' prefers moist, fertile, well-drained soils. It tolerates most pH of soil. It will tolerate wet soils for short periods of time.
Panicum virgatum 'Heavy Metal' requires little maintenance. It may be cut to near ground level in early spring to provide a tidy appearance. Large clumps may be divided from mid spring to mid summer.