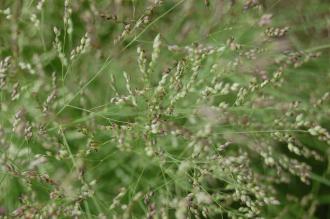 Panicum coloratum Flower (28/07/2012, Kew Gardens, London)
Position: Full sun
Flowering period: Summer
Soil: Moist, well drained
Eventual Height: 1.4m
Eventual Spread: 60cm
Hardiness: 10a -12
Family: Poaceae
Panicum coloratum is a clump forming, deciduous perennial grass and is a highly variable species. Its mid green leaves are in the form of blades, are up to 70cm long and 1cm broad. Its green/ purple flowers appear in the form of panicles which are up to 25cm long, on stalks which are up to 1.4m tall. Its roots are rhizomes.
Panicum coloratum, commonly known as Kleingrass, Blue Panicgrass, White Buffalograss, Bambatsi Panic, Makarikari Grass or Coolah Grass, is native to Africa. It is mostly grown as a forage grass in Africa, Australia and the Americas. This plants ability to self seed is variable.
The etymological root of the binomial name Panicum is the ancient Latin name for Italian Millet. Coloratum is derived from the Latin color meaning 'colour', in reference to its flower/ seed heads.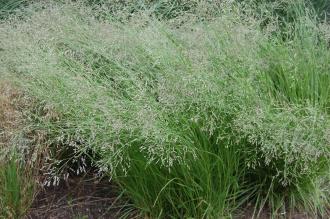 Panicum coloratum (28/07/2012, Kew Gardens, London)
The landscape architect may find Panicum coloratum useful as part of a prairie type planting scheme. It may also be planted to stabilise banks. Once established this grass is drought tolerant. It will tolerate saline soils. In cooler areas it may be grown as an annual.
Ecologically, P. coloratum seed is attractive to some birds.
P. coloratum prefers moist, fertile, well-drained soils. It tolerates most pH of soil. It is tolerant of occasional flooding
Panicum coloratum requires little maintenance.