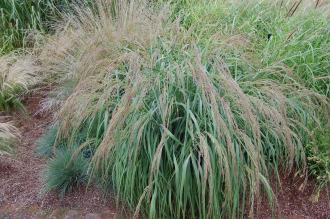 Panicum amarum (21/09/2013, Kew Gardens, London)
Position: Full sun
Flowering period: Summer
Soil: Moist, well drained
Eventual Height: 2m
Eventual Spread: 1.5cm
Hardiness: 6a, 6b, 7a, 7b, 8a, 8b, 9a, 9b, 10a, 10b, 11, 12
Family: Poaceae
Panicum amarum is a deciduous perennial grass with a clump forming habit. Its green/ blue leaves are in the form of blades, are up to 50cm long and 15mm broad. Its green/ purple flowers appear in the form of panicles which are up to 80cm long, on stalks which are up to 2m tall. Its roots are thick rhizomes.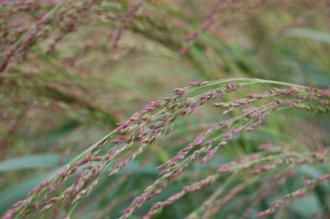 Panicum amarum Flower (21/09/2013, Kew Gardens, London)
Panicum amarum, commonly known as Bitter Panicgrass or Running Beachgrass, is native to east coast and Gulf coat of North America, Central America the Bahamas and Cuba.
The etymological root of the binomial name Panicum is the ancient Latin name for Italian Millet.
Amarum is from the Latin meaning 'with bitterness'.
The landscape architect may find Panicum amarum useful as part of a prairie type planting scheme. It may also be planted to stabilise sand dunes and prevent erosion. Once established this grass is drought tolerant. It will tolerate saline soils.
Ecologically, Panicum amarum seed is attractive to some birds.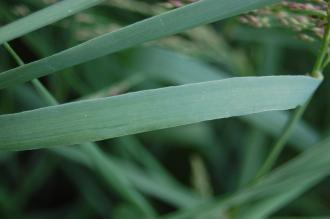 Panicum amarum Leaf (21/09/2013, Kew Gardens, London)
Panicum amarum prefers moist, fertile, well-drained soils. It tolerates most pH of soil. It is tolerant of very sandy and poor soils and saline conditions.
Panicum amarum requires little maintenance. Large clumps may be divided in spring. To keep a tidy appearance this grass may be cut prior to the new growth in spring.