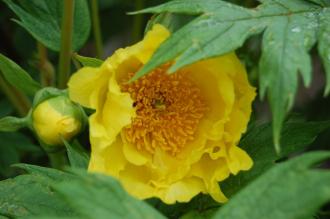 Paeonia lutea Flower (05/05/2012, Kew Gardens, London)
Position: Full sun to partial shade
Flowering period: Late spring to early summer
Soil: Moist, well drained
Eventual Height: 2.5m
Eventual Spread: 2m
Hardiness: 6a – 9b
Family: Paeoniaceae
Paeonia lutea is a deciduous shrub with a rounded upright habit. Its mid green leaves are lacerate, divided, compound, deeply lobed with up to 9 leaflets and up to 20cm long and 20cm broad. It is sparsely branched, with the stems being tan coloured and partially woody. Its yellow hermaphrodite flowers are fragrant, bowl shaped, they appear on the stem tips and are up to 10cm across. The fruit is composed of 5 follicles, each developing from a separate carpel.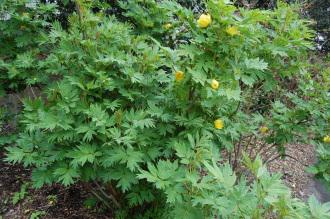 Paeonia lutea (05/05/2012, Kew Gardens, London)
Paeonia lutea, commonly known as the Tibetan Peony, Yellow Tree Peony or Tree Peony, is native to Tibet. It was originally discovered in 1887 by the French Christian missionary Pierre Delavay (1834 – 1895).
The etymological root of the binomial name Paeonia is named after Paeon, a Greece physician of the gods who, in mythology, was changed into a flower by Pluto. Lutea is from the Latin meaning 'yellow'.
The landscape architect may find Paeonia lutea useful as a medium sized specimen shrub, particularly in dappled shade.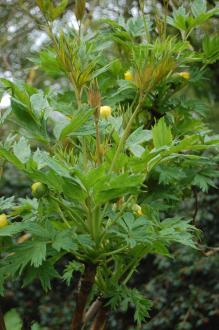 Paeonia lutea Shoot (05/05/2012, Kew Gardens, London)
Ecologically, P. lutea is attractive to bees and other pollinating insects. Ants are also attracted to the flower buds.
P. lutea prefers moist, fertile, humus rich, well-drained soils. It tolerates most pH of soil, including chalky soils.
Paeonia lutea requires little maintenance.