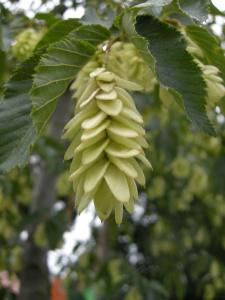 Ostrya carpinifolia seed (11/06/2011, London)
Position: Flourishes in full sun to partial shade.
Soil: Moist and well drained.
Flowering period: Spring.
Eventual Height: 15m
Eventual Spread: 15m
Hardiness: USDA Zone 4b-8a
Family: betulaceae
Ostrya carpinifolia is a deciduous tree with a rounded habit. Its foliage is oval, glossy and dark green in colour, turning yellow in autumn. It bears dioecious yellow catkins in mid spring with the males being slightly longer than the females, which are followed by hop like greenish fruit clusters that become brown in autumn.
O. carpinifolia, commonly known as the Hop Hornbeam is native to southern Europe and  western Asia. It has been traditionally used for carpentry due to the tough, close grained nature of its wood. It is also a popular source of wood for charcoal.
Ostrya is derived from the Greek ostrua, meaning bone-like which refers to its hard wood. Carpinifolia alludes to this plant having leaves like those of the Carpinus or Hornbeam.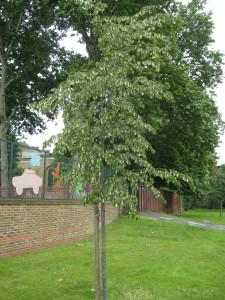 Ostrya carpinifolia (11/06/2011, London)
This plant may be useful to the landscape architect as a tough tree which will tolerate most conditions.
Ecologically this plant will attract the larvae of some species of lepidoptera will feed on its foliage.
This plant will tolerate almost any soil conditions; it will be happy in acid, neutral or alkaline pH levels, in clay, sand, chalk or loam based soils, thriving in limestone rich locations in a sheltered or exposed location facing any aspect.
Maintenance: Requires little to no maintenance. Dead or damaged material may be removed in winter.